The countdowns have begun, the bucket lists are getting drawn up…After nearly three years, we have less than four months to go here in Denmark.  And that means, less that four months of the forest school experience here for us.  We don't know entirely what's next, although we do know we'll be in Washington, DC for a bit.  How long is still to be determined.  What type of school will be next is also still to be determined.  I have found one forest school option, but the logistics and cost might make it prohibitive.  So I find myself starting to think about what life will be like in a more traditional schooling environment.  Part of that is exciting of course – our daughter truly, truly can't wait to be part of "school".  But part of me is also quite worried about it as a parent.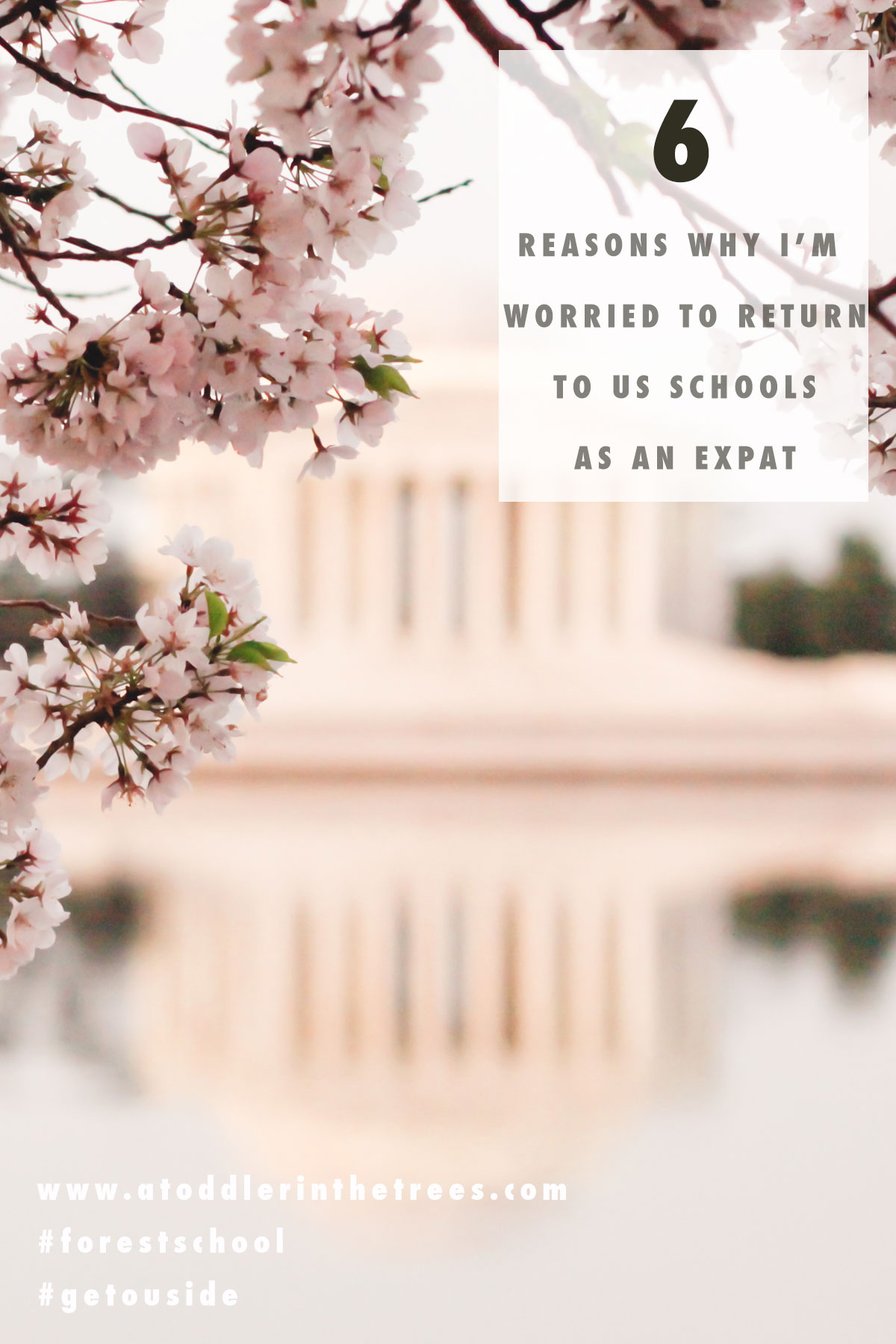 We've had a wonderful run here  – although if I think back to the beginning, it was certainly not without its challenges.  Challenges are normal, especially when there is so much change.  So maybe I'm worrying too much in advance.  And as someone who loved their education in the United States growing up, it never occurred to me that I would worry about it one day for my children, but here's what's on my mind:
The Testing Thing
I didn't much pay attention to all this testing noise earlier because I wasn't quite in the boat where it affected me.  But it's all coming a bit closer to home.  Two things that got me to take notice: when I found out my niece, who is only a year older than my daughter and wicked smart, gets "tested" three times a week every week, and half of those questions are on surprise material that you can get wrong despite having no previous exposure to it.  Second, was the fantastic and thoughtful editorial piece by Amy Frogge for the Washington Post about losing 6-8 weeks of the year to testing.  And also:
"My 9-year-old third grader will spend more time taking standardized tests this year than I spent taking the LSAT to get into law school."
That just doesn't make much sense to me at all.  I grew up a nerd, and personally, I love a good test.  If it actually measures what I learned.  And some discipline around testing and performing with a bit of pressure is not necessarily a bad thing.  But increasingly, from an outsider's perspective, this is all starting to seem like a colossal, and not necessarily harmless, waste of time.
The Common Core Thing
While we're add it, let's throw Common Core into the mix too.  I suspect it goes hand in  hand with "the testing thing".  Again, as a parent who loves education and wants the best for my children, I'm not opposed to the notion of standards and quality.  At its core (pun intended), that's not a bad thing.  But in practice, the more I see my niece's homework, the more I see that this "core" work they're bringing home is kind of a lot of bogus.  Maybe it will be different in practice for us once we get there, but I can't say I feel reassured.  It also doesn't help when teachers that you meet who are part of our expat lifestyle advise you to avoid Common Core if at all possible.  Some of the teachers who have given years and years of service to public systems, are doing what they can to put their own children in private education, and often suggest you do the same.  Not just one of them….all of them.  I'm worried I might make the wrong choice.  Or that the "right" choice will be prohibitively expensive.
The Recess Thing
Being outside has become such a core part of my daughter's school day, that I can't imagine her not getting this time as early as next year.  Since we grew up with plenty of recess in North Dakota when I was younger, I never really considered it something you had to fight for until reading articles like this about the Florida recess debacle.  All the research shows that time outside is good, kids say that time outside is good, teachers say that time outside is good….So the fact that you would have to go as far as state legislation to protect something that is universally good for children? Why? How did we get here? Is it to create more time for more Common Core? for more testing? Is it to protect for profit schools that have recess as a differentiator? I worry because I can't square this in my mind, and I imagine other parents can't either.
The Snow Thing
Here when it snows, there is a collective delight from the kids because in school the rush off to sled together before it all melts away.  Snow doesn't stick around Denmark long, but it certainly did in North Dakota, and the qualifications for a snow day meant that if we were taking one, it was certainly bad outside.  In the DC area, the mere mention of the possibility seems to drive the city into paralysis.  I realize that part of this is because the city is generally unprepared for snow and snow clearing (that's painfully obvious after moving there from a state that gets actual snow).  But in 2013-2014, the area averaged about 10 days of snow days (this isn't even counting "two-hour delays") across counties, and that number wasn't too far off the following year.  That is two work weeks without school access.  As a parent who's on her own through the end of this year, this definitely worries me a bit as to what happens to the kids when the school is no place to go? How does that balance with work? How does that affect their routines? Are we teaching them the world should stop turning when it snows (or that TV is the appropriate answer since even if I stay home, I will have to work from home and will struggle to find a way to occupy them for 8 hours?) But really, what worries me is that they might lose some of the joy that comes with changing weather – will she still find joy in sledding?
The Absences Thing
While the schools seem to close at the drop of a hat for weather, leaving you as a parent in the lurch, there doesn't seem to be reciprocity for when you as a parent might have to adjust to your own schedule.  Here when we had some family trips, the school kindly advised us to take our time. I realize this might have not been the case if our daughter was older and had more formal schooling here, but given that she will be in kindergarten in DC, I worry a bit about all the communications from the public schools about what constitutes truancy and going on and on about unexcused absences.  I imagine that these policies are in place to ultimately protect children and their educations.  But for myself as a child, some of the most formative experiences I had were trips that my parents took me on which required time out from school occasionally . What if I want to do the same for my own children? Will they really consider me a neglectful parent?
The Legalese Thing
Since we've been in forest school, we've signed exactly one waiver/permission slip thing and it had to do with photography and we filled in any stipulations we had for their consideration right on the form.  I have a feeling that in the US, school will be full of waivers and forms and permissions and what not, all to satisfy the intense level of legalese needed to make sure that everyone is covered.  Here, the schools generally trust parents to do what's right, and parents trust the school to make good decisions on their behalf.  No paperwork required.  Some things are sometimes not always exactly on in a specific moment on both sides, but overall, the working relationship is a good one – without all the legalese standing in the way.  Maybe it is not possible to do it that way in the US for a number of reasons, but I'll miss the foundation of trust that is such a bedrock here.   I worry that if that trust goes away, does mistrust and fear take it's place in equal proportions?
**********
I know that, like any transition, we will make our way through it.  There might be some growing pains and I know many who feel that their students are receiving a more than wonderful education in the DC area so we'll find the right fit soon enough. I guess my biggest fear is that there might not be room for our experience of how things to could a little different; that we might forget what we learned here.  It's not the only way to do things, but it is a pretty great way, and I would hate to lose that in the move.
Parents who have made similar types of transitions, I'm all ears for your advice!