Washington, DC is about to fall in to full-out Yayoi Kusama mania! In fact, if the Hirshhorn Museum website crash earlier this week is any indication, they already have.  And we should know, we already went through this in Copenhagen last year when the Kusama exhibit was at the Louisiana Museum.  The exhibit was spectacular, and there are many things about it that are just perfect for kids.  So as we prepare for the Kusama frenzy here, I thought I'd share a few learnings about enjoying Yayoi Kusama installations with children.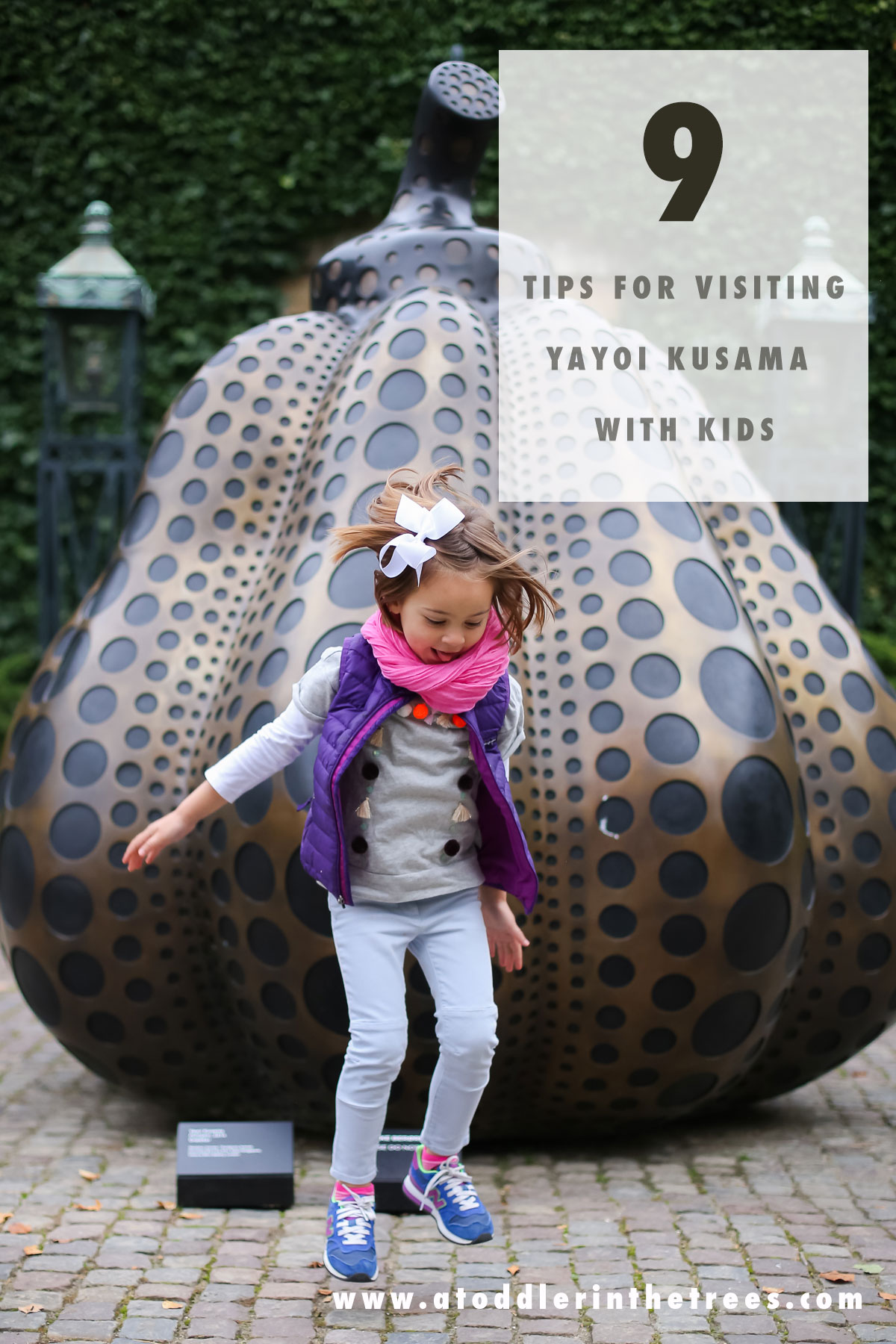 Yayoi Kusama is a contemporary artist – sometimes called pop artist – who is most well-known for her use of polka dots in surreal contexts in various types of media.  The imagination can really run wild, which is part of what makes it so great for kids.  However, there are a few things to keep in mind to make the most of your time, and your children's time, at the exhibits:
Consider becoming a museum member
When Kusama was at the Louisiana, literally I think every person that came through Denmark came to the exhibit. Meaning, it gets crowded – and that was in Copenhagen so I can only imagine the volume that we'll have in DC. Here in DC, we are getting the benefit of seeing it for free, although you will need a timed pass for entry (available on the Hirshhorn Museum website, and released in tranches). When the first batch of passes was released the whole website crashed, just to give you a sense of how much this is anticipated. In Copenhagen, we were members of the Louisiana museum which allowed our family to go see the exhibit multiple times, and we could go at times when we knew it wouldn't be too crowded.  The Hirshhorn is even offering special Kusama membership passes that allow access to the exhibit, but at a fraction of the cost of normal contributions for a full membership. Getting exhibits of this caliber are major efforts for museums, and there is no time like right now to show additional support for arts institutions and the work that they do on behalf of all of us.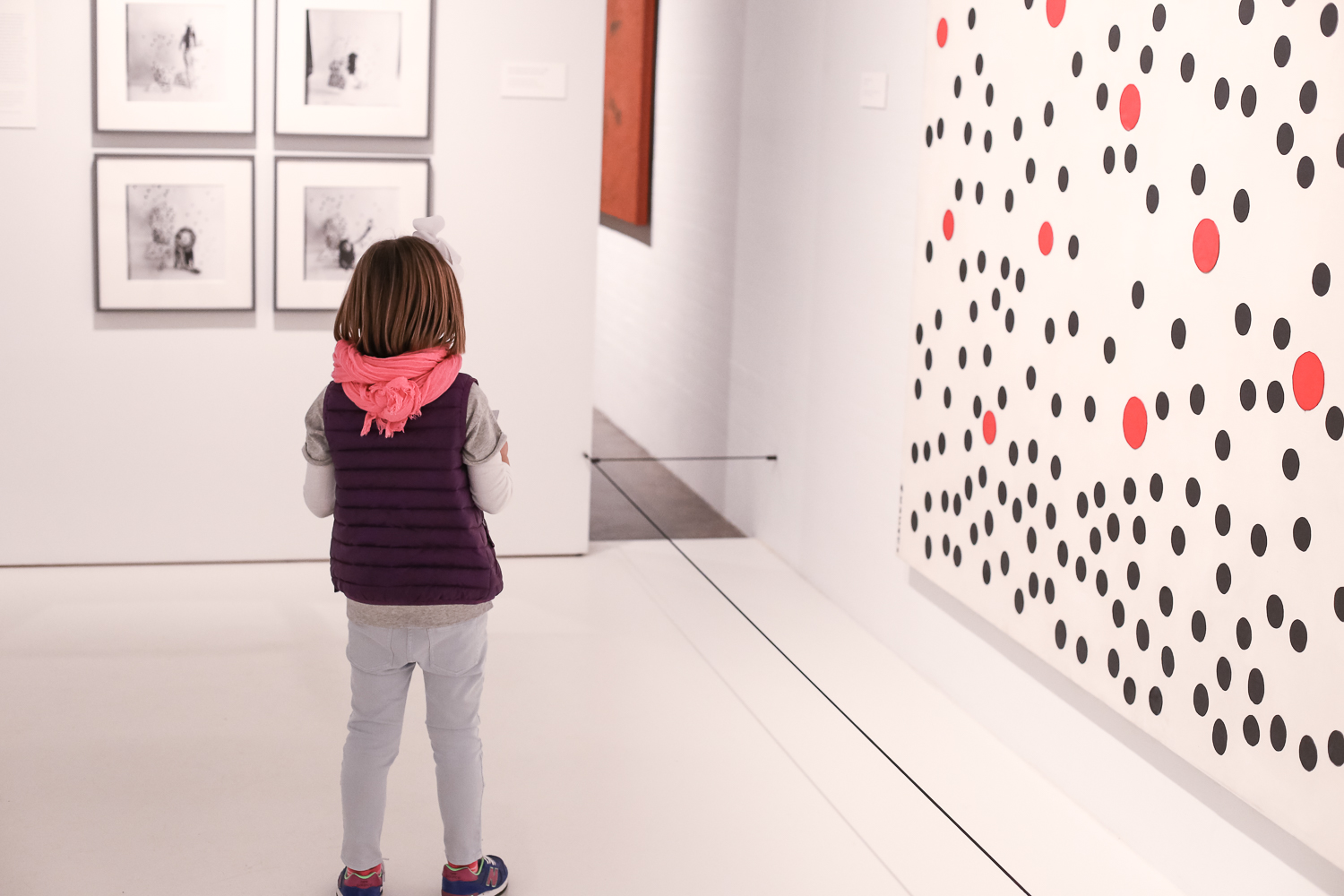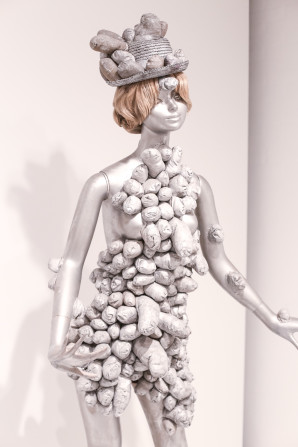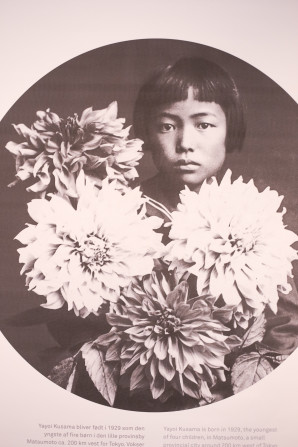 Make an effort towards off-peak times
If you want to absorb art with kids, doing so with thousands of other people on a Saturday morning is tough.  If you can, try to aim for a late afternoon in the middle of the week (an excuse to leave work early ?!?) rather during the peak hours of the weekend.  It's a much better experience for your children, and also for your sanity.  Although we saw Kusama in Copenhagen multiple times, my favorite by far was when I picked up my daughter from school one day and we went just the two of us, on a random mid-week evening.  We literally had nearly the whole exhibit to ourselves.  The Louisiana had a great cafe overlooking the water where we had dinner and paired it with a treat from the museum shop.  To date, it remains something we both talk about as a memorable time.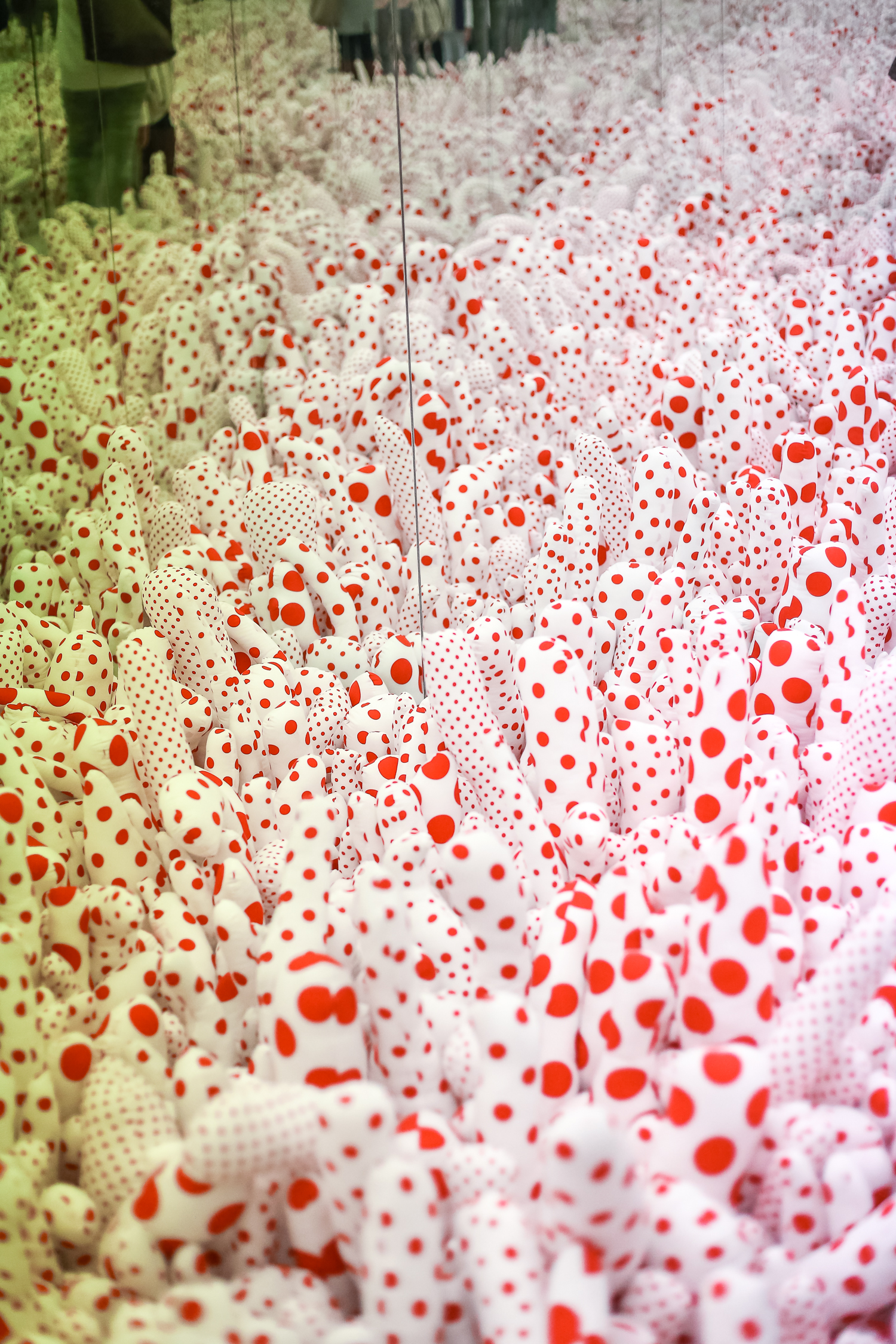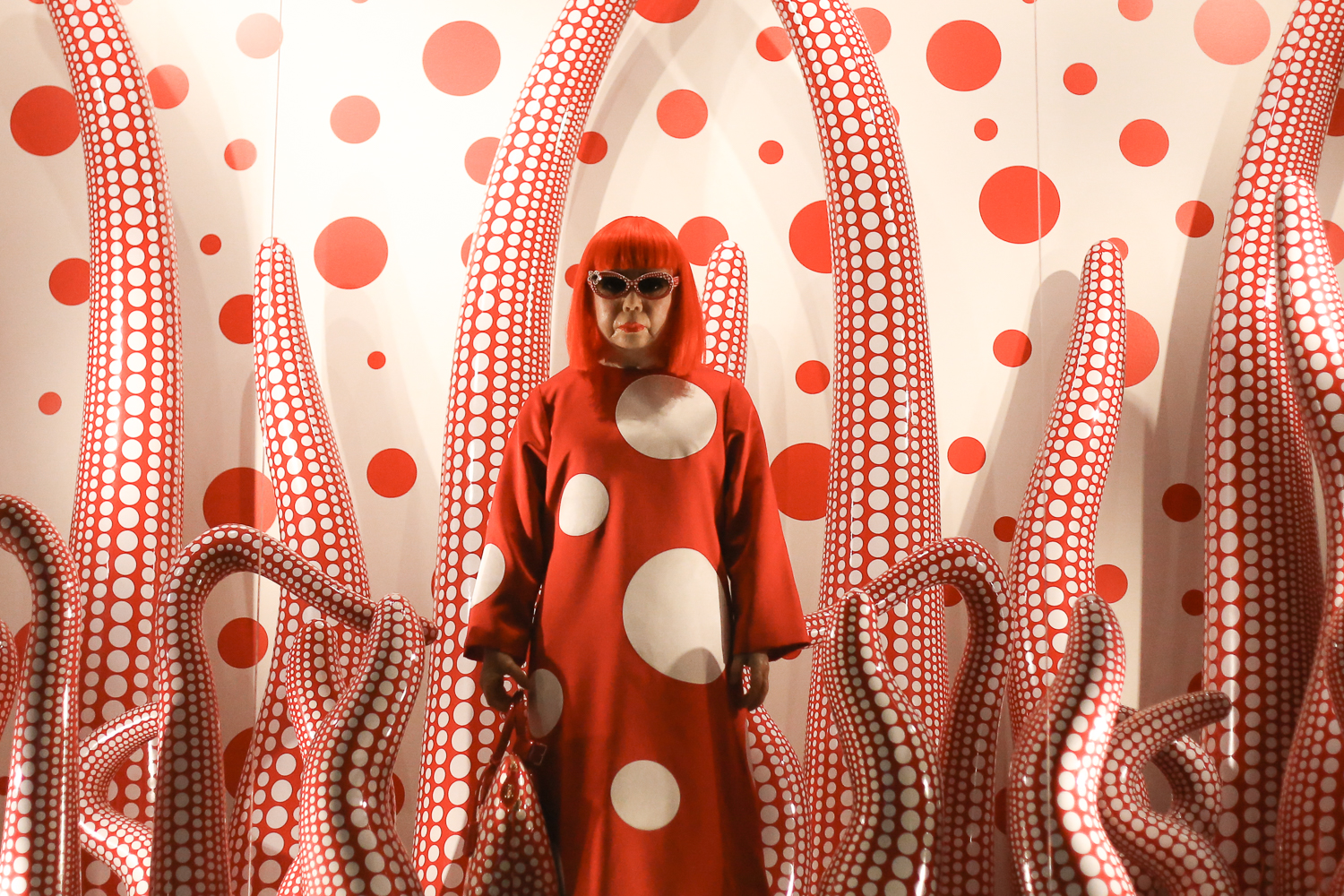 Prepare for wonder…
The beauty of Kusama's work is that it is so approachable for children. I don't know all of the pieces that will be here in DC, but in Copenhagen, between the polka dots and the mannequins and the balloon installations and the pop art and the mirrors and everything, I could literally see her mind spinning.  It was a joy to watch…At one point, my daughter turned to me and said, "Mommy, it's like all the things in my imagination!".
..but also prepare for limits
Kusama's pieces are so close to various aspects of a child's imagination, and some are even interactive, like the polka dot room, that they can appear very approachable and tactile, like colossal toys blown out of proportion.  There is a lot of temptation to touch things that aren't allowed to be touched.  It helps to set expectations around the fact that you're visiting to look and talk, and not to touch in advance to avoid disappointment.  You might have to remind kids throughout the exhibit but do so with patience.  Try to see things from their perspective and how tempting it must be to reach out and try to capture some of the magic before them.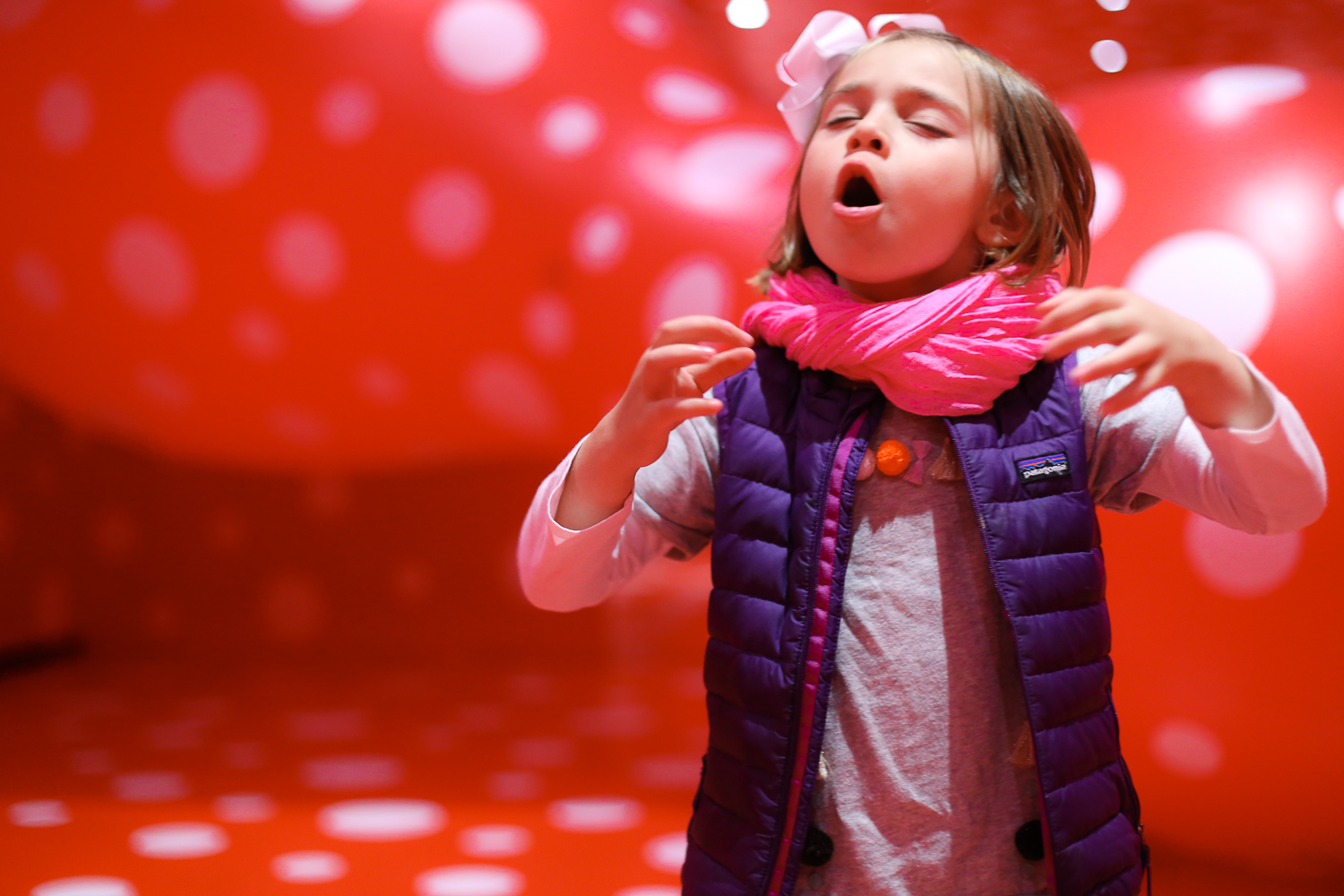 Compliment with the opportunity to create
Although children can't touch at the actual exhibit, they can certainly be inspired to create based on what they see.  At the Louisiana, we were lucky in that the museum itself had a lot of activities on hand based the art in the children's zone.  I don't know that they will have that here.   But one of the things we had done after seeing the exhibit is that we went out and bought a lot of dot stickers in various sizes at the office supply store.  My daughter was free to create her own pieces on paper and on empty boxes which she enjoyed.  Welcome the artistic responses you might get as a result of the exhibit.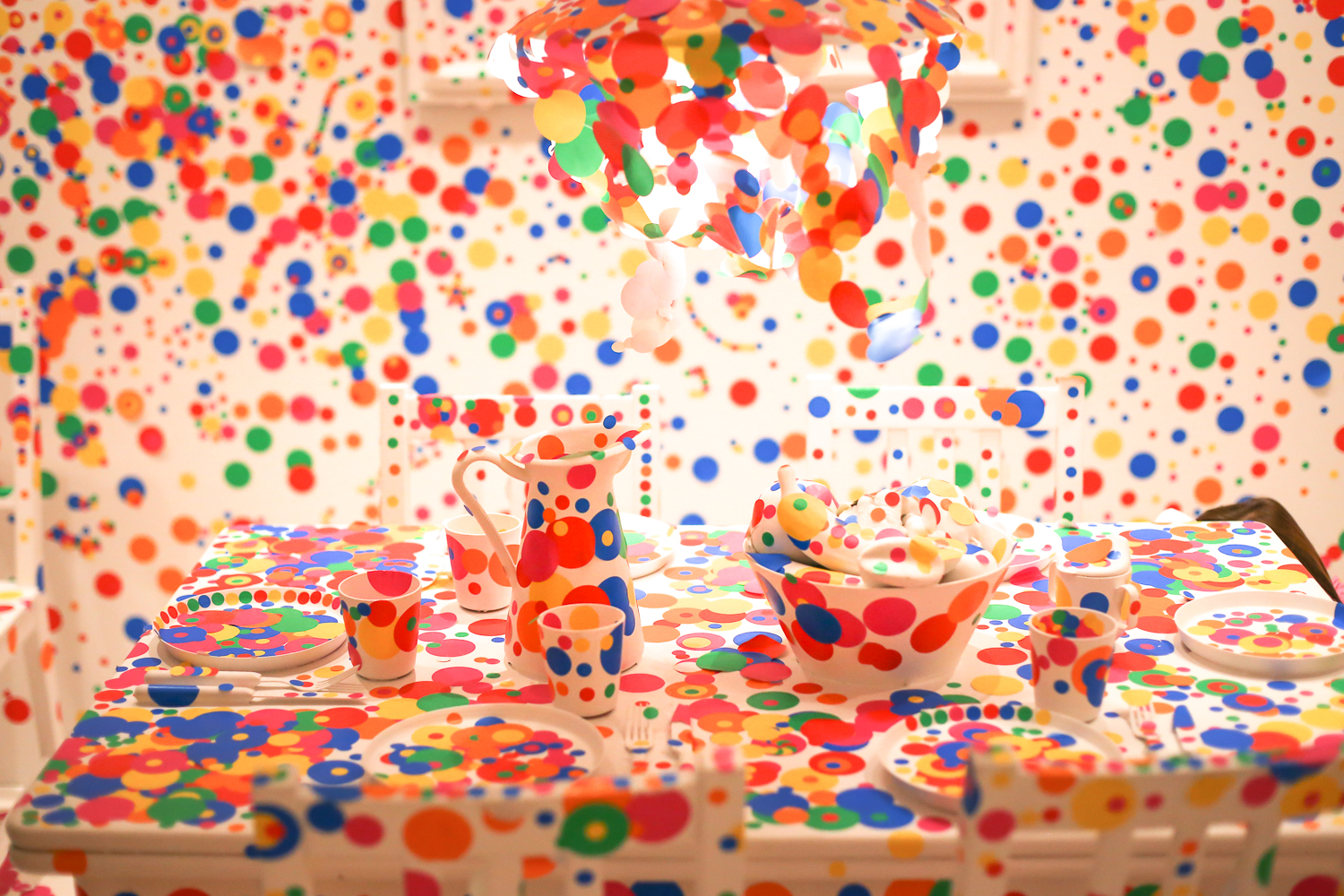 Be on the lookout for when they've had enough
The color and scale and impressions can be overwhelming for kids, especially if you're also  fighting crowds a long the way.  It's better to see a little bit and be inspired, then see absolutely everything and end in meltdown.  Look for cues for when the kids have had enough.  Plus, if you took the advice in the first tip and became a member, then you can always come back for whatever you didn't get to see.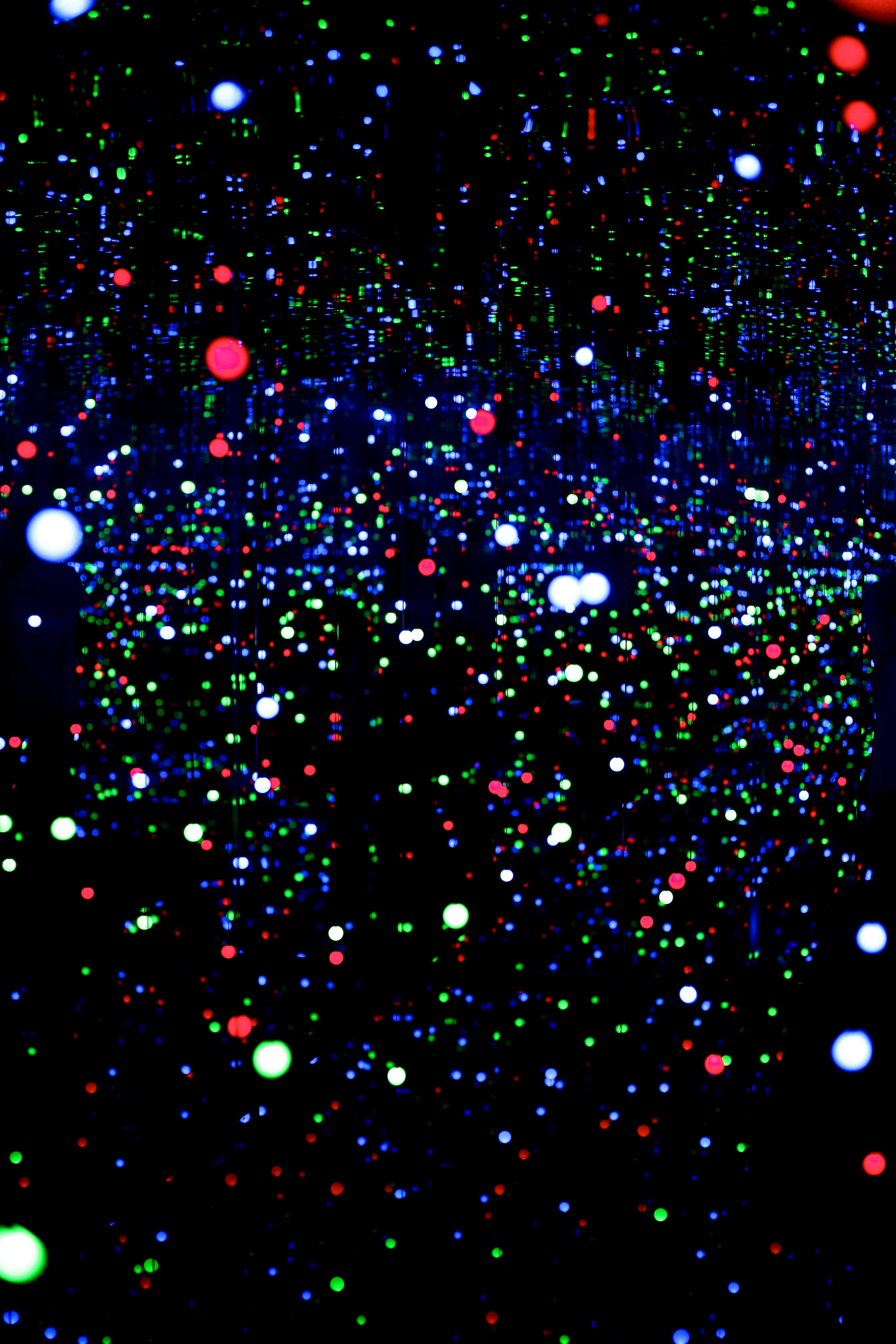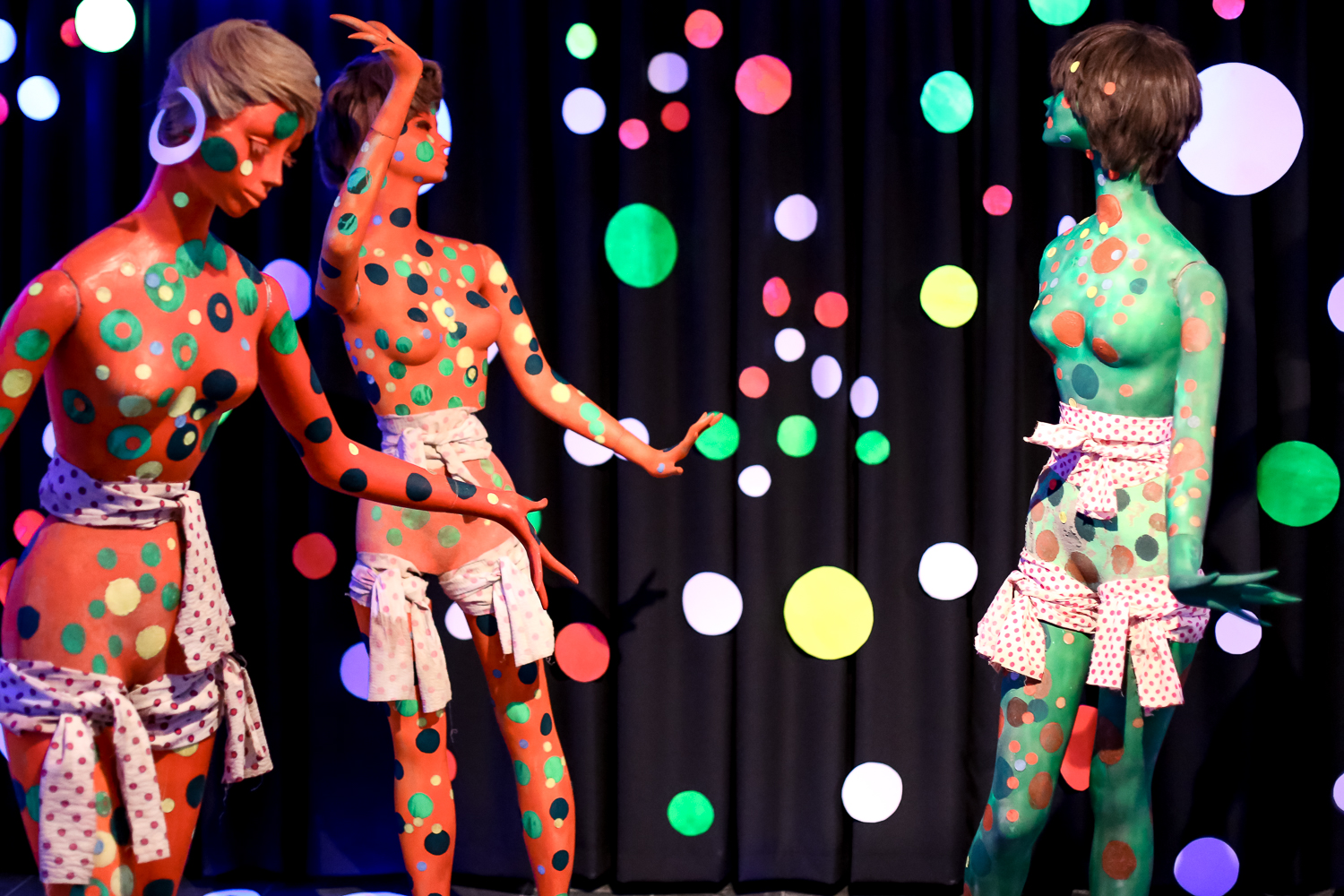 Pocket a few energy bribes
When there is a lot going on, for example, waiting in line to get into some of the mirrored rooms, sometimes a secretly passed gummy bear or two can help give a little sweet reward. Similarly, if you're making a big day of your visit, then a well-timed snack break in a quieter break space can help avoid hunger debacles.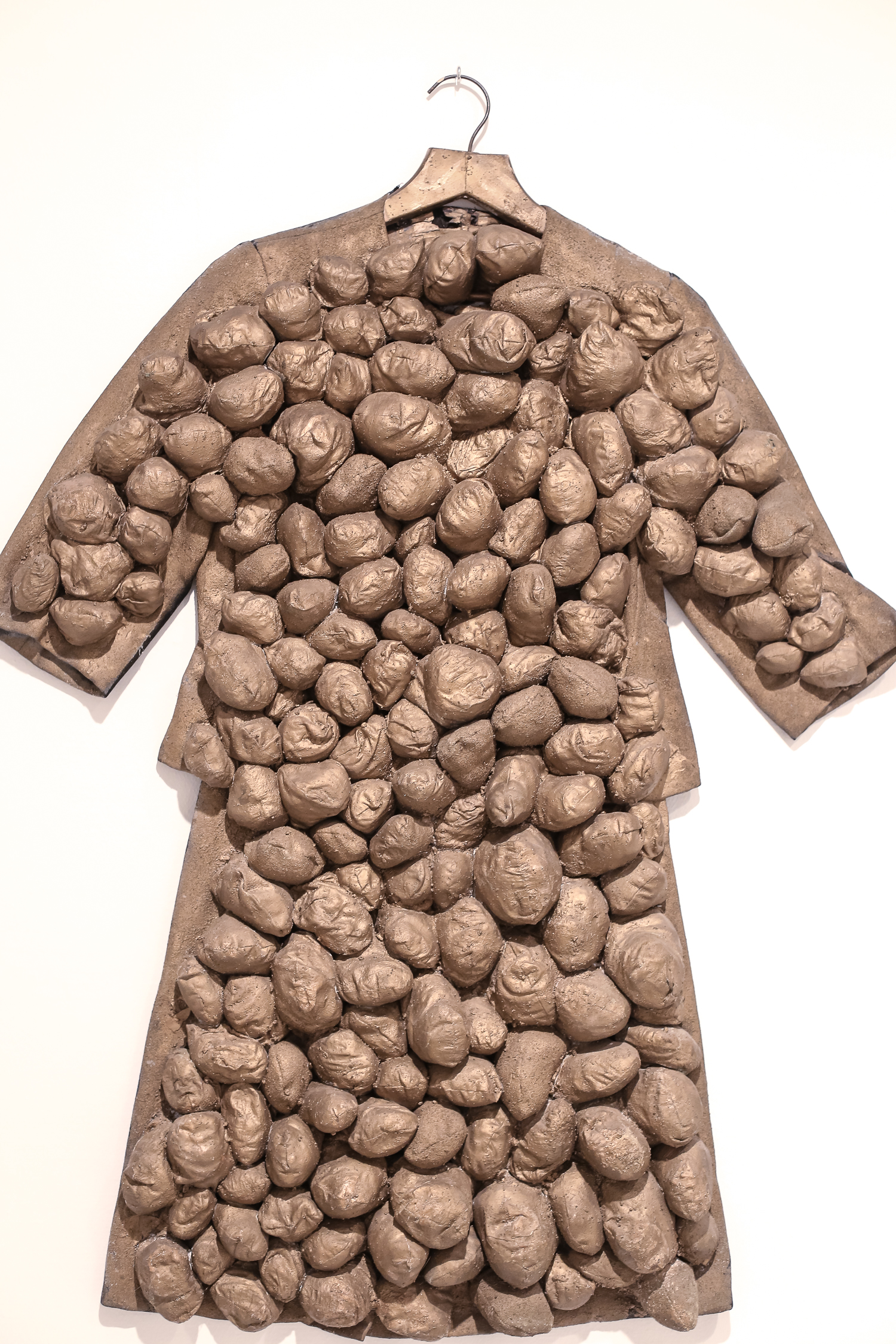 Don't make it a photo parade
Kusama's work photographs well, really well.  Or at least it's tempting to try to photograph well since it's such a wonderland.  In Copenhagen, I read that her exhibit ended up being the most "selfied" thing in the city that year.  The thing is, a ton of photos and selfies aren't all that fun for kids.  Take a few select pictures, but don't feel like you have to get every single thing.  Let your kids try to take a few of the pictures too, and then call it a day with the photographs.  Again, you can always come back.  Kids get tired of pictures fast, and they'll much appreciate the attention you give them, and not your screens, instead.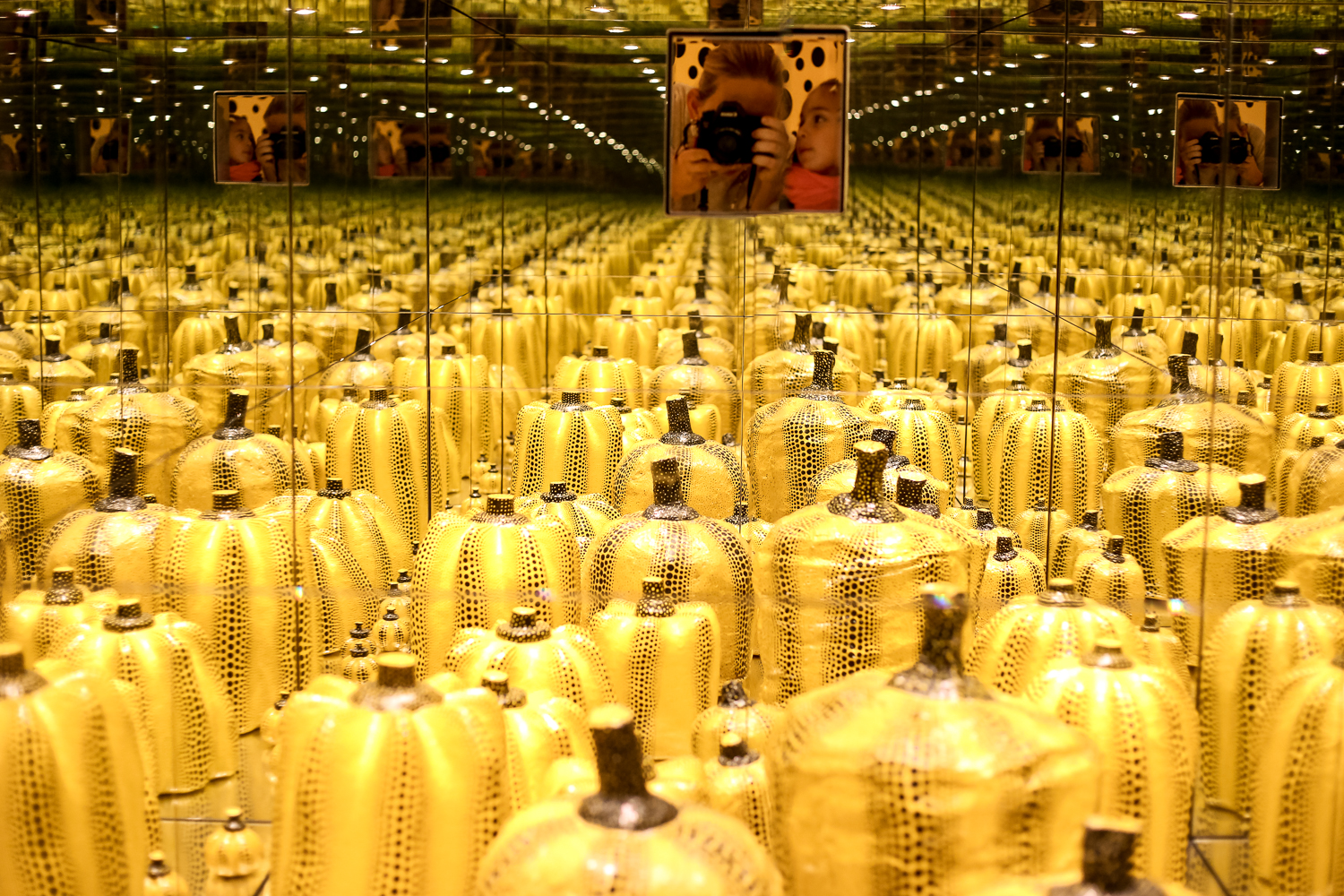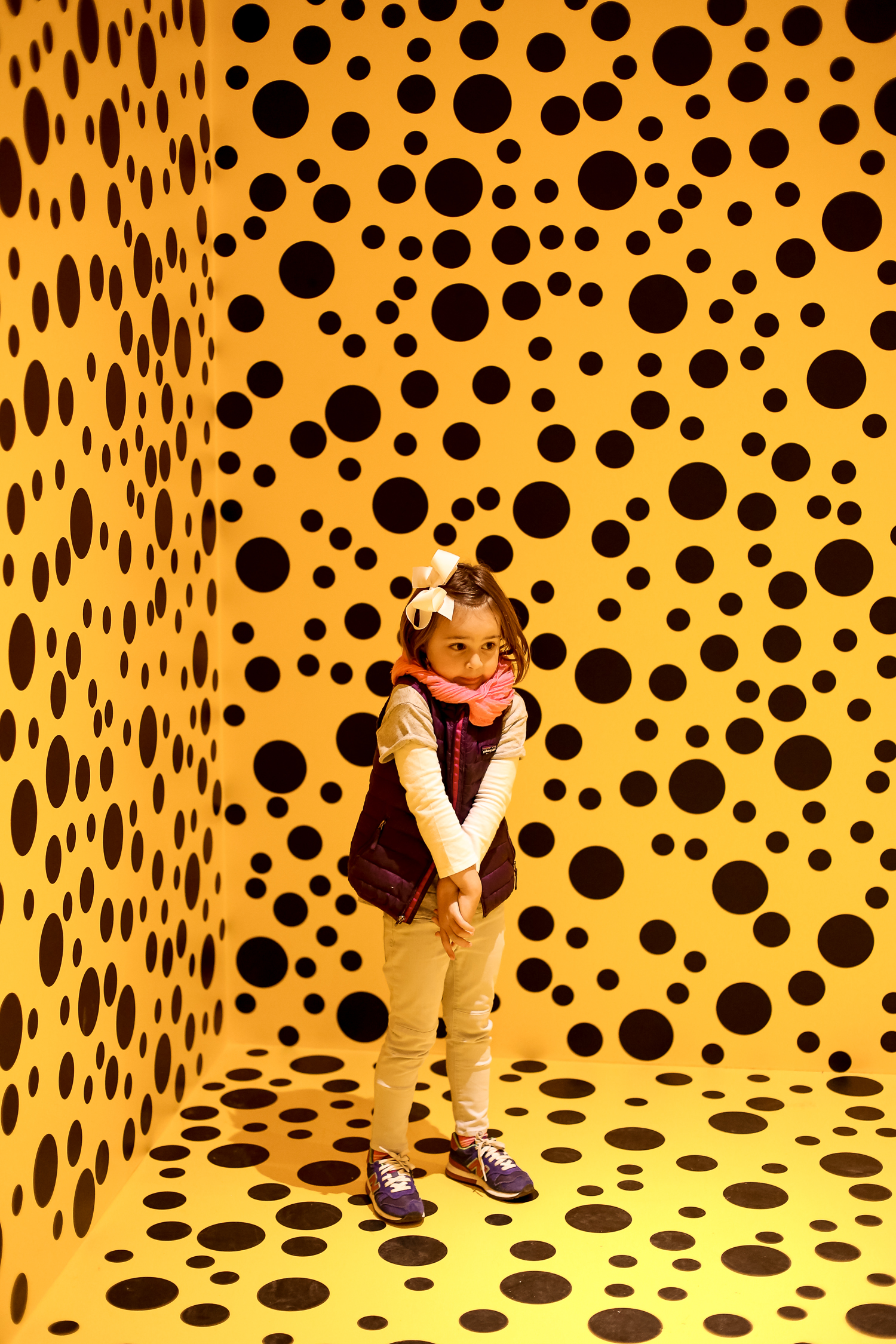 Have fun
This exhibit is joy and wonder, and just flat-out fun.  When it stops being fun, either because there are crowds, or because it is late, or because your kids are hungry, or  because it just turns out not to be a great arts day for them, don't force it.  Quit while you're ahead, declare victory and go home.  Or better yet, if it's nice out, head out to the mall lawns and let the kids run free for a bit.  They will deserve a bit of fresh air, and their imaginations will take off even more.