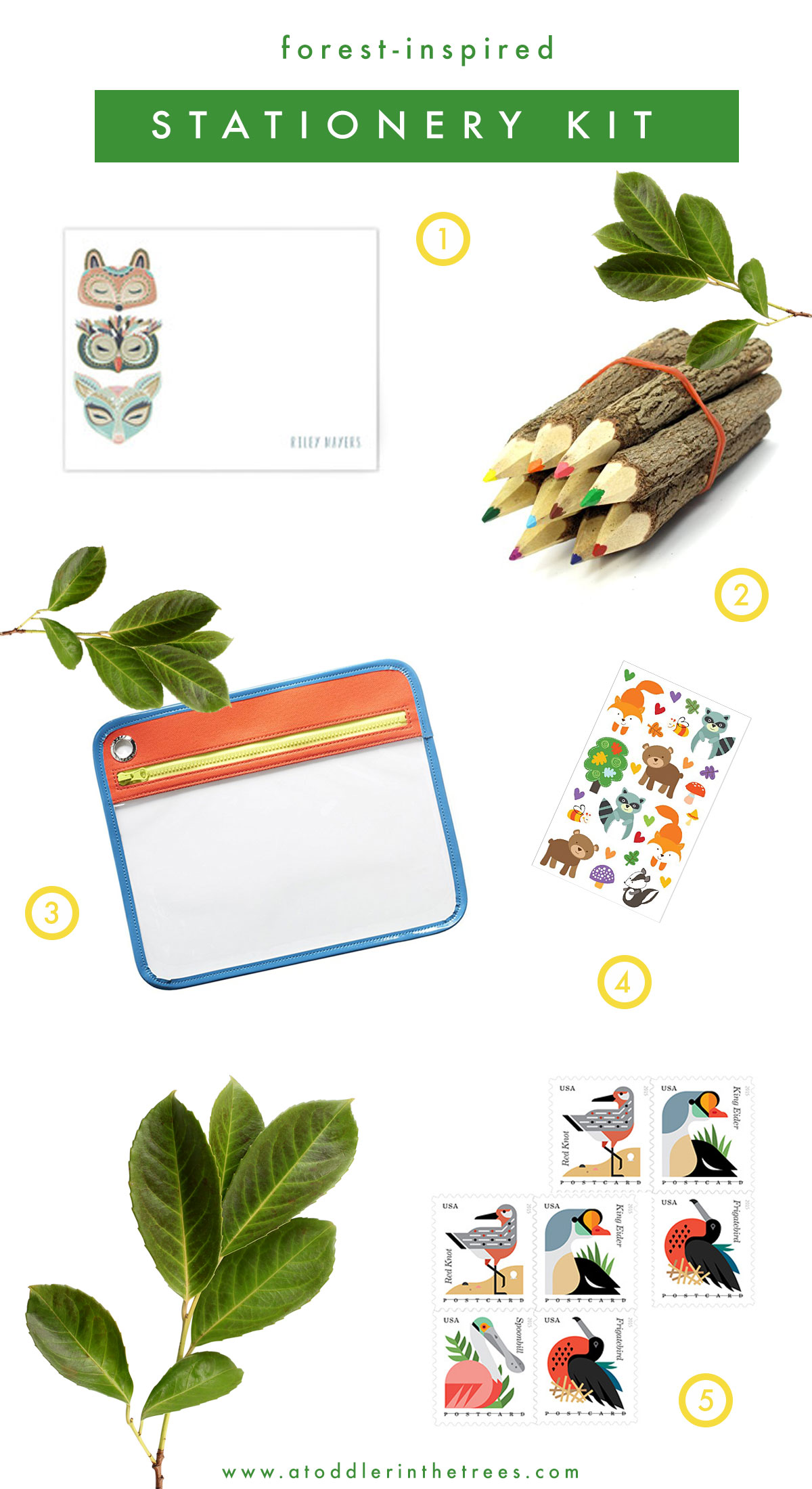 A casualty of moving around a lot is losing track of seemingly just about everything that you need for everyday life right at the time that you actually need it.  Of course, you find it again once you cease needing it.  It's just one of those things that always seems to happen no matter how much you manage around it.  Most recently, I can't seem to find anything related to mail, thank you cards, postage or getting anything by post to anyone of note on time. And we've been lucky – friends and family have been good to us so it's reminded me to get our tot set up with a little thank you stationery kit of her own.  And since the forest is still near and dear to her, I thought this would be a fun little theme:
Forest Creature Personalized Thank You Cards
We go to Minted a lot for all sorts of holiday cards, but I've also ordered personalized stationery cards for the kids from here as well.  You have the option of adding a print or a photo on the back of the card so if you order them small batches at a time, it's a nice way to have both card and photo all in one go.
Wooden Twig Colored Pencils
I mean, does it get more forest school than pencils that look like twigs? I don't know if these are the most practical of pencils, given that they require full on whittling to sharpen them once they run down but if you read anything about the wet saw and the knives, you know a little recreational whittling won't scare this former forest schooler!
Truffle Case Bag
In forest school, pouches and boxes that keep things that go together actually together are life savers, and for all sorts of small sundries for travel and backpacks I love the Truffle clear plastic, but heavy-duty, cases.  Thought these fun colors would be great for keeping all the card writing goods together in one spot!
Critter Stickers!
We are just getting into stickers as decoration here although sticker books have been a long time travel fave of hers.  Lately, she's been liking stickers as a quick way to decorate letters and crafts and projects.  It's nice when you get a few large sheets or bulk sets (Mrs. Grossman are a favorite and they bundle them together in a local toy store here for a great price) so that they're not too precious when they start getting enthusiastic.
Coastal Bird Stamps
They always said that Denmark would turn us into birdwatchers.  And despite me laughing when they said they were a little right…so much so that when I saw these coastal bird stamps at the post office, I thought of them for her.  Only after did I see that they're $0.34 of face value so for a card in an envelope, you have to use too but it just makes the envelope prettier (for a postcard, go for one!).  I remember going to the post office with both my grandparents and my parents and them letting me pick out stamps for my own letters so I love that we get to do that here as well too.  Who knows, stamps and letters might not be around forever but it won't be because we didn't go to the post office!