The other day, my daughter was explaining to someone that she was Danish.  Obviously, that's not the case on paper, but it's becoming clearer to me that she is increasingly feeling Danish, whereas feeling American is rather abstract for her.  This is not to say that she doesn't know America.  We're gearing up for a trip back to North Dakota (my home state!) next week, and she'll be in the DC/New Jersey area next month (our other US home).  While I was working, trips back to see the US and both sets of grandparents were very much the norm as I often had to return to the home office and let her tag along.  But to her, these trips back are starting to seem more like destinations at the end of an airplane route, and less like home.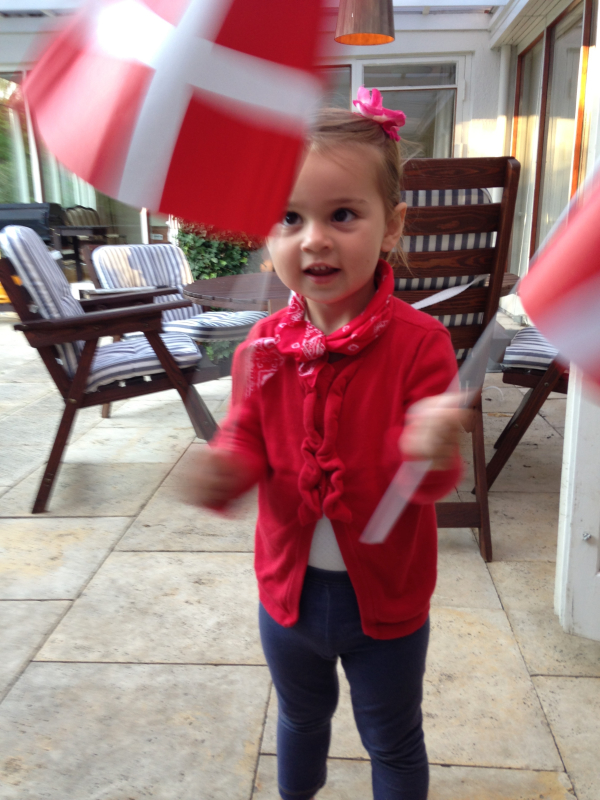 We just completed two years here in Denmark, which is a good time for me to cue up the cliché of not being able to believe how fast it went by.  And it's just now at the two-year mark, that I feel like we are hitting our stride as expats around here, although for my daughter that feeling of comfort probably hit sooner.  She was just two and a half when we came here, so anything that is truly in her working memory is from here in Denmark.  She's making big preparations in her mind for when she leaves the forest school to start real school, "skole".  She's got all sorts of plans; I don't yet have the heart to tell her that while she will in fact start school, it won't be here.
We have one year left to go, so I'm facing the dual preparations of soaking up every ounce of what we love about this place, while trying to pre-plan for a smooth transition, most likely back to the US for us for one year.  When we came here, I didn't think too much about preparing our kids since we only had one and she was so young.  This time, I'm planning on being a bit better prepared.
To that end I have been reading the new book by fellow diplo-spouse Clara Wiggins on "The Expat Partner's Survival Guide", specifically the chapter on moving with children.  It's a great resource for thinking through transitions for everyone involved in the move, and quite honestly, I wished I had picked it up sooner.  It's full of tips and experiences, but also has a comprehensive resource list at the end of each chapter to help you in your own specific move.
A couple of things that she advises for raising kids in this type of lifestyle:
Take kids "home" when possible for holidays
Keep kids current with some shows or books or jokes
Celebrate key holidays from home (hello, stars and stripes!)
Talk about home and returning there
With one year out, I realize we've been doing a lot of the first three, but not so much for the fourth.  We've always done a lot of looking at photographs and videos here at our house, so it should be easy enough to layer in more conversations about home and what that means, where we are from and why that matters.  I can still create enough space for her to feel her own brand of Danish without taking away the fact that she is American.
It makes me all a bit nostalgic for how quickly the time has gone (there's that cliché again) but may this last year be the best year – at forest school and beyond!
If you're also an expat or third culture, check out The Expat Partner's Survival Guide a helpful guide, and also blog.  And just to prove that Clara Wiggins is an expat pro herself, check out her thoughts on living in the tropical life on the isle of St Lucia over on the other blog.