Is it weird that I'm getting sentimental about a backpack?
The school has been reminding me in a friendly (but persistent way) that it was time for a new bag.  I'm always a bit delayed with getting the memo on these things.   Although her first one served her faithfully, we've gotten to the point where she's just outgrown in it.  Part of me knows I shouldn't be surprised – I mean, they grow fast at that age.  I see it every day.  Plus, they put crazy wear and tear on those bags.  But part of me can't believe that we've come so far.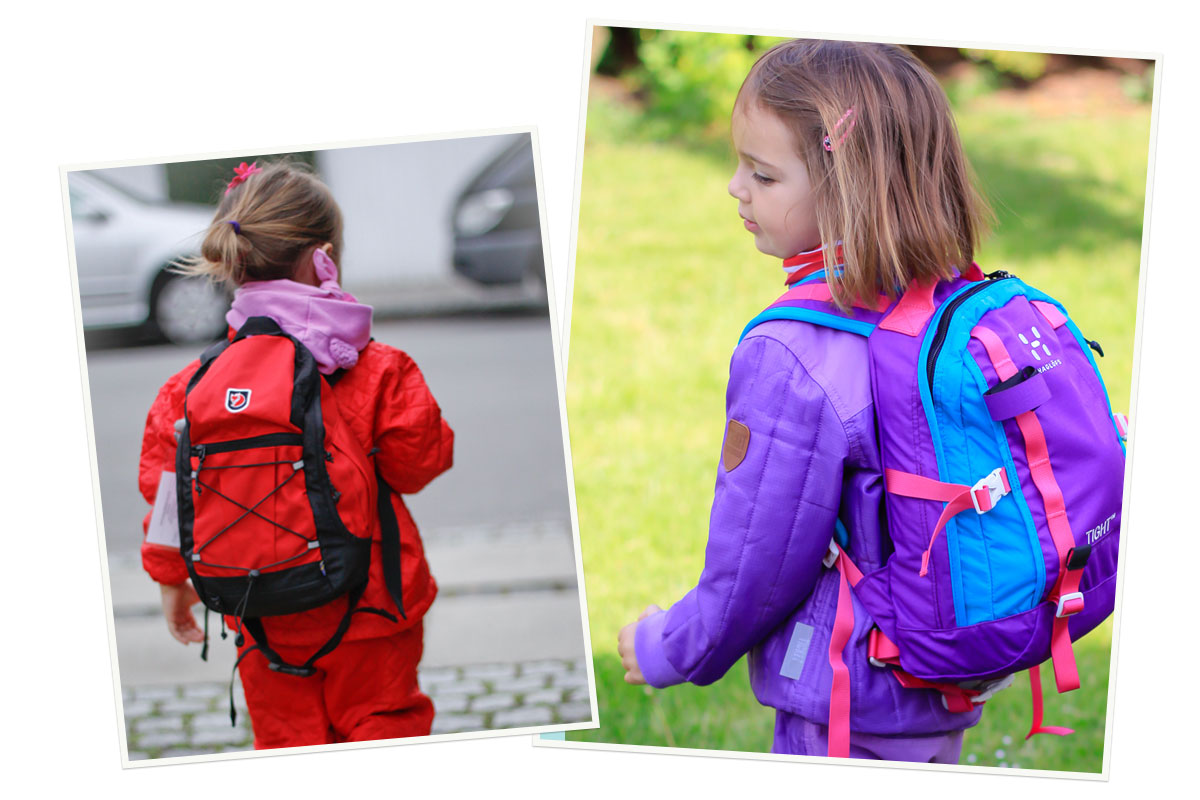 Since they are in school year-round, we don't have the traditional trappings of "and now this school year is over" so the retirement of this bag, which has been her daily companion since she started a year and a half ago, is the closest thing we have to progressing to the next step.  These bags are home to their lunches and water bottles and a change of clothes and dry socks and the ever-present rain outfit.  More than occasionally, a pile of sand or a collection of rocks seems to find a home in their too.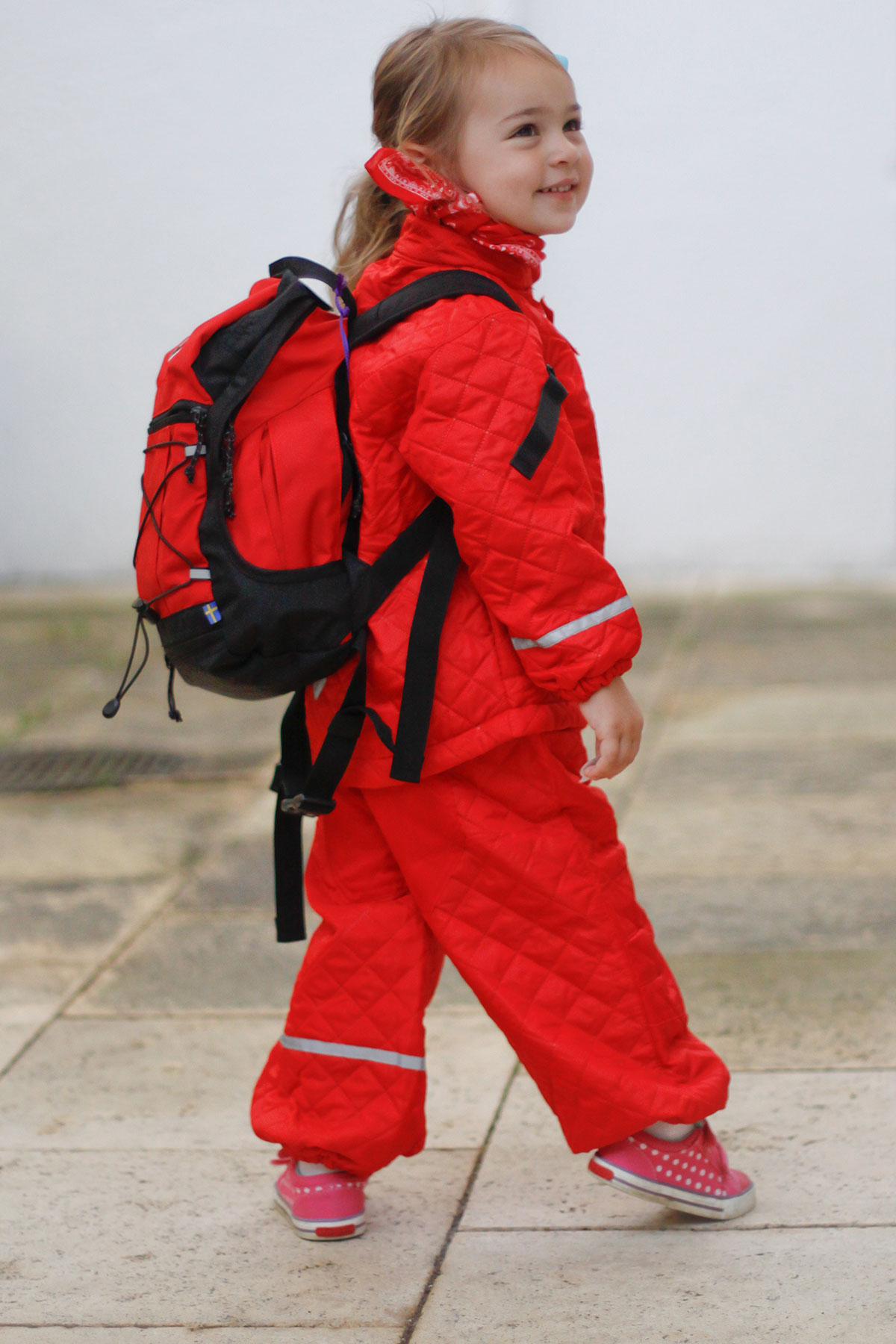 When I look back at when she first started on her first day, that bag seemed huge…almost overwhelming for her little frame… and heavy… She definitely wasn't used to hours of walking  – with or without –  a pack.  Now, she flings it on and off as if it were full of nothing but popcorn.  Though make no mistake, the minute I should up for pick up, it's "Mommy, can you carry my bag? It's so heaaaavvvvvyyyyy!"  even though it is the least heavy it has been all day.  As sturdy as those forest schoolers are, they all still know a sucker when they see one, and I factor at the top of that list.
Now, this 6 liter bag seems tiny, and barely able to contain the things she needs for the day.  It's been through the wash at least a hundred times, and while it held up like a champ, it's starting to show the fray that inevitably comes when your owner is a toddler.  Still, I have a soft spot for that little pouch of red that follows her out every morning.
As the toddlers get bigger, all that gear gets bigger, and eventually the bag needs to as well.  It's inevitable.  Ten liters are where we're at now.  However, it's not just in liters that we've grown.  We gained 4 liters of volume, but that doesn't even begin to describe how much she's gained in confidence and independence and resilience.  Maybe that's why I'm getting so sentimental about this brightly colored collection of nylon and straps.  As it turns out, a lot can happen when you gain 4 liters.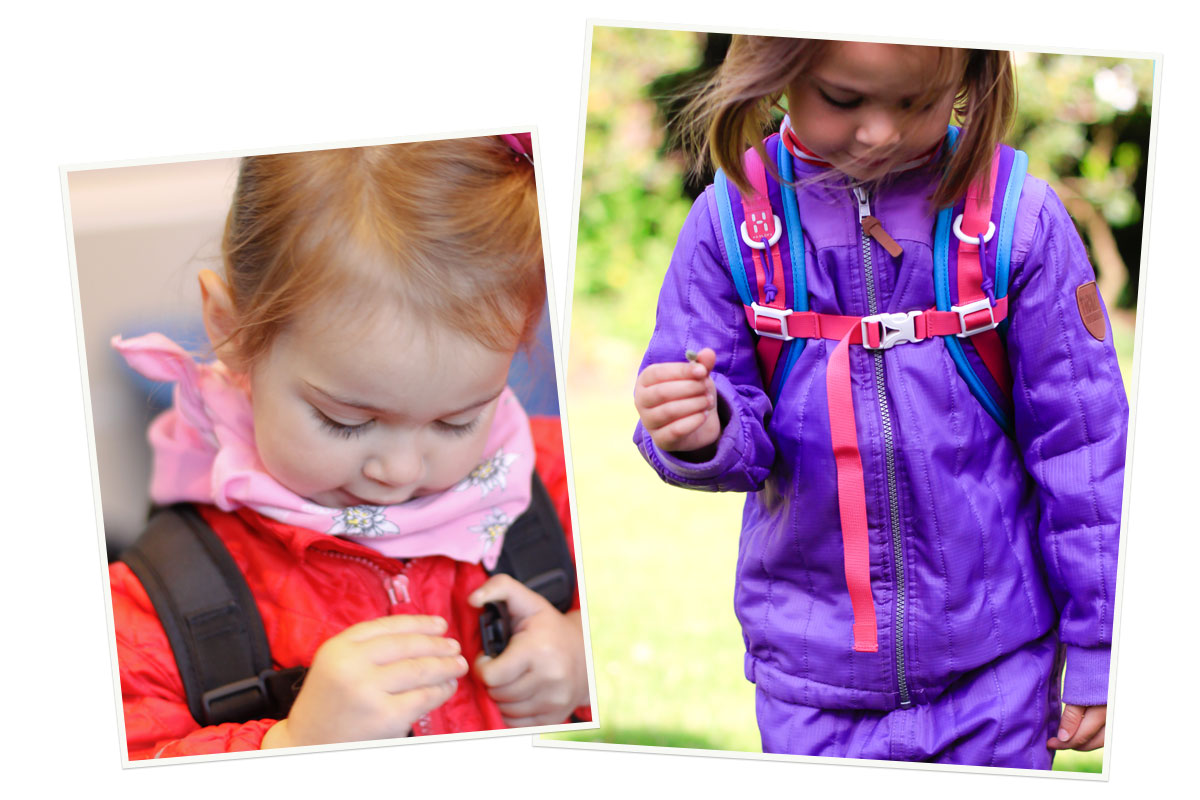 So we're on to the bigger and better.  Out with the red, and in with the purple.  She chose it all herself, proudly wearing it in the car the day we bought it.  Which is a good thing – at these Danish prices, we should be getting every minute of wear that we can out of it! I'm considering making her sleep in it.  We're shifting into a new season, and a new year so to speak – here is to her new companion.  Adventure is out there!