Ahh, the Danish language…  Learning it as an adult is near impossible.  Well, not impossible, but really not all that easy.  Not that I have been trying that hard at it.  But for my daughter while the beginning was tough, the end result seems to be a touch shy of native – here's how long it took our toddler to learn Danish.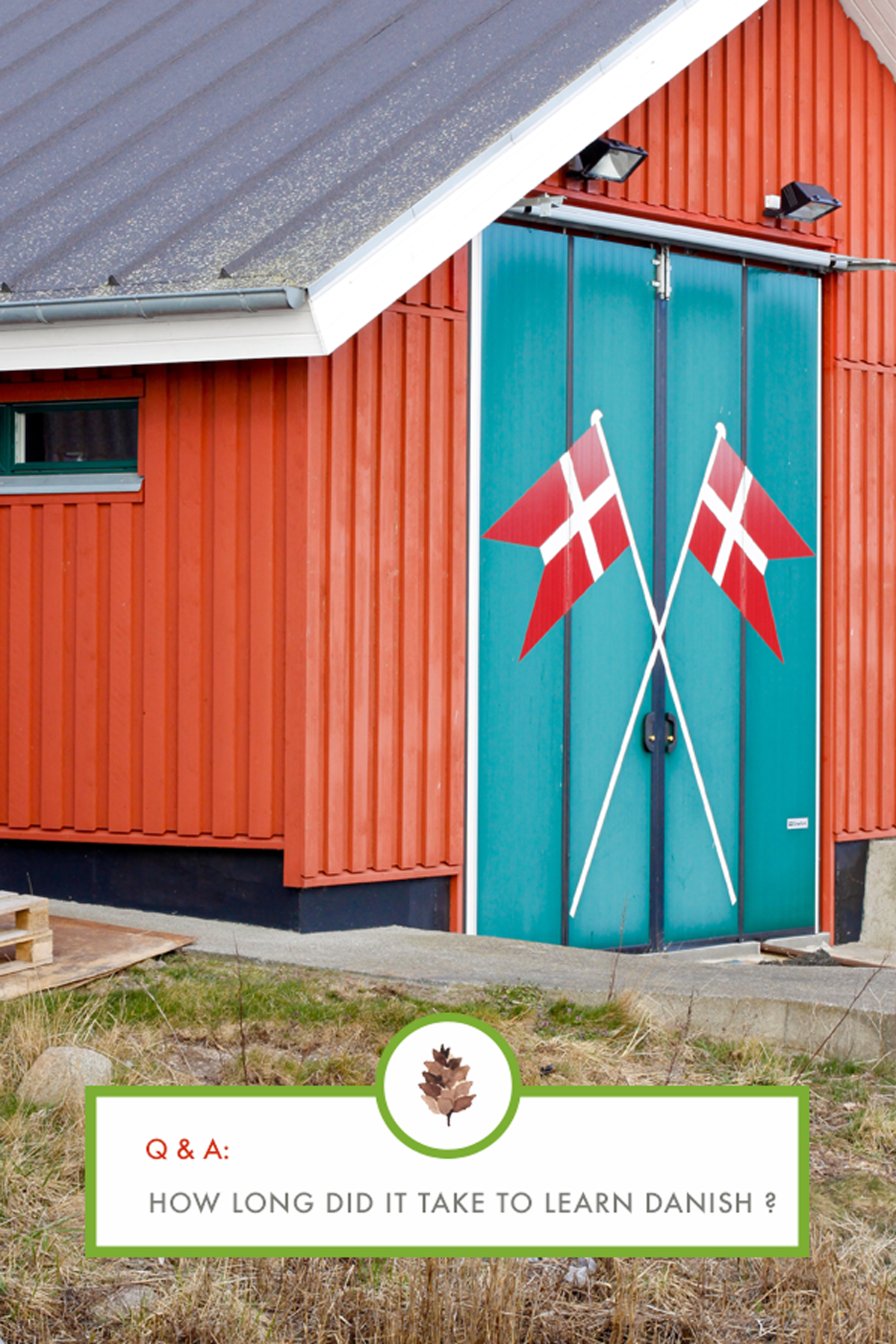 Because of the blonde hair, I'm often mistaken for Danish, which leads to a few initial seconds of misunderstanding in any conversation and culminates me explaining yet again that I don't speak the language.  But what ends up being more surprising is when our daughter then rattles along in Danish as she were native to here.  Oh, wait…she thinks she is.
It wasn't always like that.  The beginning was slow.  And painful.  When we first started the school, our daughter was often on the outside looking in – both literally and figuratively.  She was always so quiet and often, outside of the group.  As much as I spouted on and on about kids being resilient and not needing language (especially before actually having kids myself), it pretty much broke my heart to see her not be included.
When the weeks rolled on and she was still the quiet child on the outside, I started to wonder whether this would ever really sink in.  My parents, who had actually seen this very same story before when they arrived in the US with me in tow, at nearly the same age, encouraged me to hang in there; one day, the gates would just open.  She was being quiet, yes, but she was also absorbing.
To their credit, the school never really pressured her or me about the language thing.  In fact, they also were pretty reassuring that it would sort itself out eventually.  And if you read the speech impediment essay, they were doing their own thing to help her get to the right place at the right time.
So when people ask how long it took, I always pause for a minute because there were those days and weeks in the beginning where I thought it would take forever.  But in reality, it didn't take that much time at all.  She started school in November, and by March she was singing along with the songs, though not exhibiting much conversation.  Then, towards the end of April, she started to participate in conversations at school.  And by June, when we visited Spain, with Norwegian friends, she got her first compliment of sounding like a native speaking Dane from them, and she had no problem chatting back and forth with Norwegian girls her age.   Now she gets those compliments all the time.  After June, she was talking a mile a minute.  So in the end, the road to fluency really took about six months.
That's just a ballpark figure though – each child is an individual.  In the end, I'm not sure which elements made a difference or not, but here are a few things that might be helpful to know about our situation:
The speech therapist that the school provided made a big difference  (I think anyway).  She helped our daughter understand that she had a Danish-speaking life at school and an English-speaking one at home.  Her time with the therapist also gave her some safe space to practice and ask questions and really absorbs words and the unique Danish sounds.  If your child is trying to learn the language here, definitely ask around for resources similar to that – or I know they also have language adjustment classes as well for those starting school here at different ages.  I don't know much about them but be in communication with your kommune to take advantage of the resources out there.
We went all in on the schedule – when she started school, she started every day and all day, and we stuck to that schedule consistently.  There was of course a ramp up in the first week or two, and for the first six months we picked her up a little earlier in the day than we do now, but we never did the half day thing or the couple of days a week thing.  A lot of that was due to my work commitments, but a lot of it was intentional on our part as well so that, although it wasn't always the easiest, it was the most consistent for her. It also made the days long enough where she needed to speak Danish eventually in order to be understood.
At our particular school, while the teachers all spoke at least some level of English, they phased out of using it unless it was an emergency after the first couple of weeks.  She also didn't have really any English-speaking classmates except for one who spoke English in addition to Danish.  Basically, there was enough to make her comfortable but not so much that it was a crutch.
There is a lot of singing and music at our particular school and that's always resonated with our daughter.  She loves music – so even when the language wasn't coming immediately, she could start to recognize the melodies and then would join in on songs as best she could way before she would actually start to say something.
Because our daughter was young when she started (nearly 3), and she hadn't yet really attended a school before, ALL of it was new to her  – not just the language thing.  The concept of school, plus being outside all day, plus the language… to some degree, she didn't know any other version of school so I think to her the language just ended up being what they spoke in school, outside.  Basically, it never occurred to her that it could be in English or that school would be inside.
All in all, learning a language is a tough thing but really, kids do pick it up quite quickly.  And the whole process will accelerate when they start to make friends as well.  But, I will say this  – as a parent, while you know that ultimately learning a language is a gift in the long run, in the short run, there are hard days.  Hang in there… sometimes the quietest days are when they absorb the most.