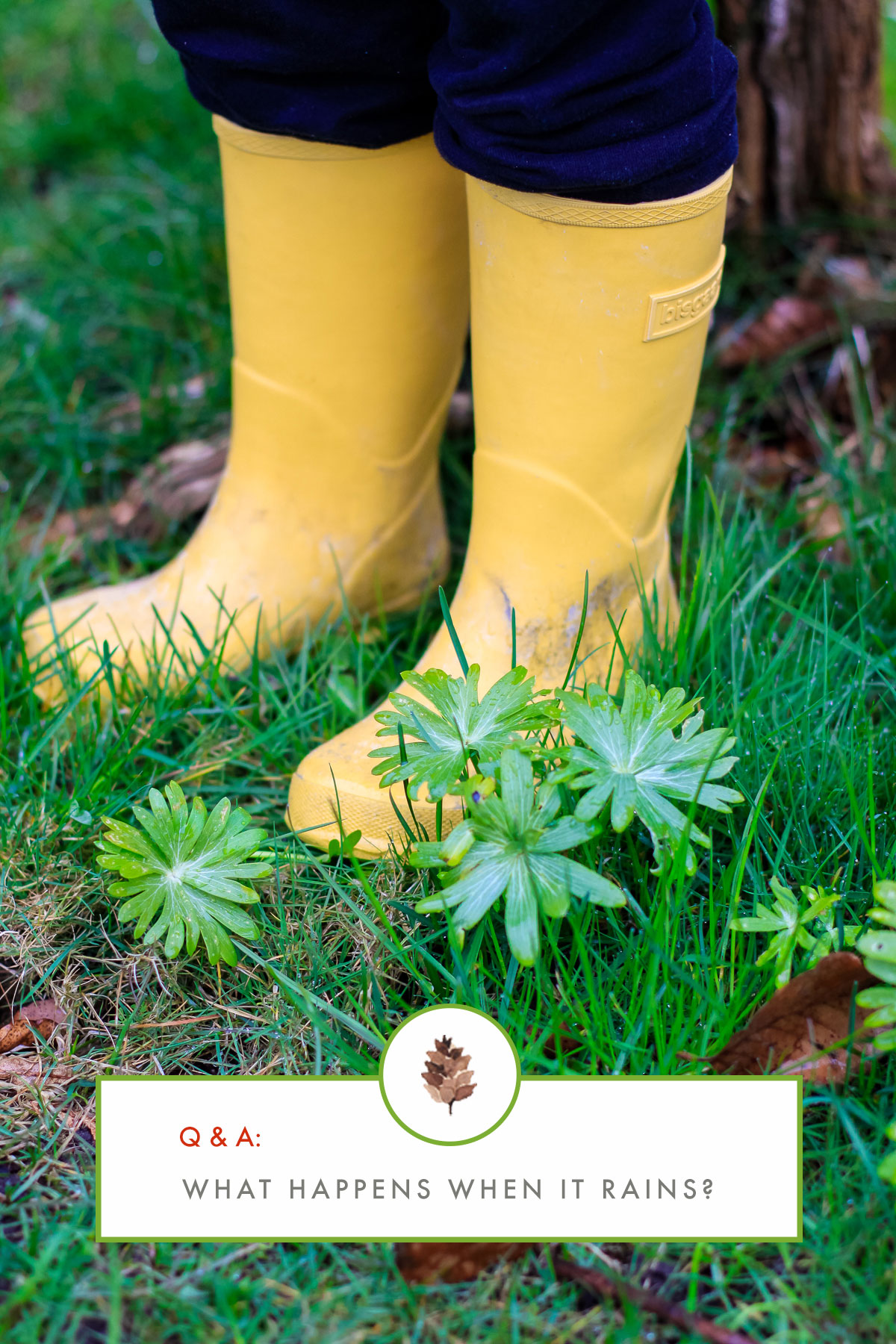 Short answer: Nothing.
Long answer: Nothing much different happens when it rains at forest school.   And that's because they pretty much go out rain or shine…or sleet or snow or anything.  As I mentioned in the post about the building, they don't go inside for too much unless there is truly an inclement weather day, or there are multiple children that don't feel well, or a specialist coming in for talk or something to that effect.  Apart from those exceptions, they really do expect the kids to be outside (and frankly, even if they're at the building they're mostly outside).
What makes this all work is dressing appropriately for the day.  Here in Denmark, you'll hear people say the whole "there's no such thing as bad weather just bad clothing decisions" thing a lot – especially if your child goes to forest school.  And also here in Denmark, the weather changes a lot so you always need to be prepared for rain or for changes in temperature and so forth. Layers are key, and so are waterproof outfits and boots.
Here's the thing though, once the kids get used to the fact that they're out in all kinds of weather, they don't much notice it.  They're dressed to stay dry and frankly, they're having too much fun to care.  And the kids know that if its raining there are different things that they can see – for example, the frogs and worms come out…or the flowers bloom.  A rainy day for the kids becomes a different type of day, just like Tuesday might be different from Wednesday.  But it doesn't become an excuse to write it off as a bad day.
And if they get wet, well, they get wet.  As my mom still likes to remind me, we're not made of sugar.  That's what the dry clothes in their backpack are for.  And when they get home, a warm bath and a mug of hot chocolate doesn't hurt either.    Now that doesn't sound so bad, does it?