When you travel with toddlers, to visit friends with toddlers, not surprisingly, your travel itinerary tends to be geared a bit more towards toddlers, and that was definitely the case when we visited our friends in Dublin a couple of weekends ago.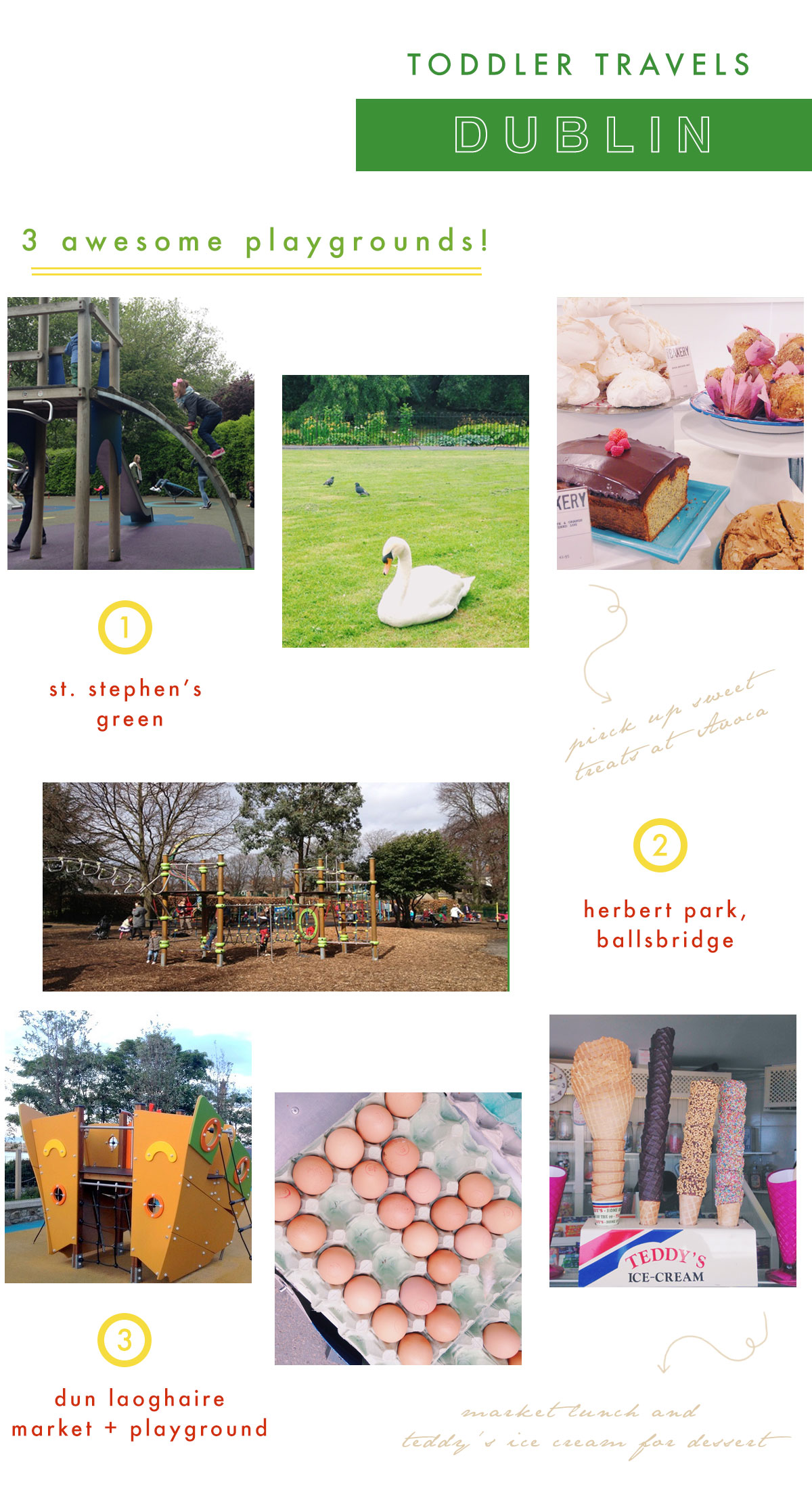 Luckily, our friends are seasoned pros when it comes to toddlers, and while the visit was short (much too short for my liking – Dublin and Ireland, you are on my list to return to!), we managed to pack in an entirely new playground each of the three days we were there.  And each one had their own special flavor and proximity to "extras" that were just as entertaining for the parents, which means that these were winners all around.
1.  St. Stephen's Green:  We were told that if you could only see one thing in Dublin, St. Stephen's Green should be it.  Not only is it a beautiful park right in the middle of the city, but it's got a great playground right in the middle.  Now, Copenhagen is home to some pretty amazing playgrounds, but one of the things you notice pretty quickly when you have kids here is that nearly all playgrounds are based in dark sand, which means you're guaranteed a load of laundry (or two) by the time you get home.  This playground is outfitted with softer matting instead, making it possible to play your heart out and still look respectable for your fish'n'chips luncheon at the local pub.  The playground is laid out in a graduated fashion, so there are groups of structures and activities for kids to enjoy regardless of their size, and scattered benches that allow parents to take a load off.  As a bonus, the entry to St.  Stephen's Green is right off of Grafton Street, which means you can do a little busker entertainment and window shopping on your way over.  And if you start on Suffolk Street by Trinity, you can pop by the Avoka main store, pick up a few Irish blankets to take home, and a pack up some phenomenal baked treats and salad boxes from their cafe in the basement for a lunch on the green.
2.  Herbert Park: Right between the Ballsbridge and Donnybrook neighborhoods is a huge expanse of green space called Herbert Park.  Our friends live just around the corner and I have to say, it's pretty prime toddler space.  The park itself is huge, with a lovely pavilion area and ducks and swans which makes for a nice walk (or run for the ambitious) at pretty much any time of day.  The playground is expansive, with lots of climbing structures and a base of wood chips, which is also something we don't find here in Copenhagen.   What was nice about this one, was how many people seemed to know each other and each other's children – it has a really nice neighborhood feel to it.
3.  Dun Laoghaire Market + Playground:  This one is a little outside of Dublin with a quick ride on the local transit, but in a toddler's eyes, it has it all: a train ride! the sea! ice cream! It only took me the entire train ride to figure out that Dun Laoghaire is pronounced "dunnleary"…and suddenly I remembered that this was where some of the characters in Circle of Friends lived (three cheers for Maeve Binchy! ) which made me love it even more.  On Sundays, Dun Laoghaire hosts a big open air food stall market: crepes, pad thai, falafel…they're all on the menu – as are beautiful farm fresh eggs, soda bread and cookies the size of your head.  But don't use up all your dessert chips just yet – after a lunch to everyone's taste on the lawn (where you may get treated to an impromptu choir performance), head over to the playground (crowded but fun!) to work it off.  Once everyone has had their fill, you can follow the road down to Teddy's for ice cream, a bit of a local institution.  We had to head back after that for our flight, but if we had more time, a nice walk on the water would have been an even more perfect ending.
So that's the scoop on Dublin playgrounds – again, we were only there for a weekend so I'm sure there is much more out there.  For those that have visited or lived in Dublin with little ones, feel free to add your suggestions about playgrounds or other great things to do with toddlers in the comments below!
Image Sources: Herbert Park Playground, Dun Laoghaire Playground