We've just come up on 11 consecutive weeks of house guests, and Helsingor is probably our top requested day trip from all of our guests.  But we don't mind, in fact, we often head there ourselves even with no guests.  Having been multiple times, we've come up with a small list of favorites that are always a hit with our toddler, even when the umpteenth iteration of "To be, or not to be?" jokes are not.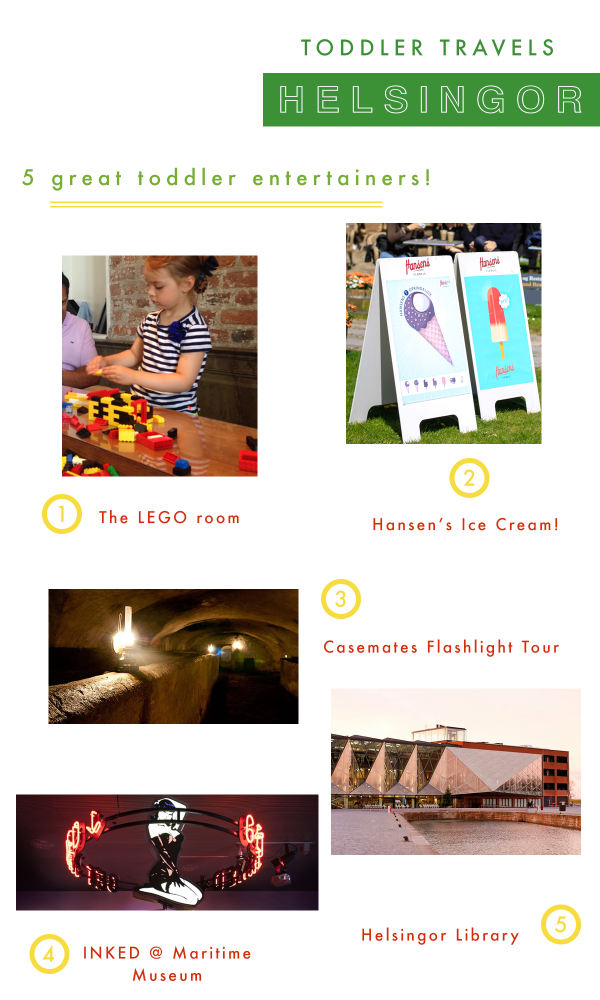 1. The LEGO Room at Kronborg Castle: At this point, our daughter could probably give the highlights tour of the Castle itself, which is the top attraction at Helsingor.  But the reward for making it through yet another round, is then heading up to the second floor hallway while our guests explore the nooks and crannies to play in the Lego room.  Large tables of the blocks encourage children to build their own castles and often, paper and crayons are out as well.  It's not very well sign-posted so make a mental note to stop by here with your littles in tow.  I've been known to build a castle or two myself here as well so this isn't just for toddlers (like most things on this list actually).
2. Hansen's Ice Cream: On the way in and out from Kronborg is the sole cafe.  It has a lovely but limited menu but always on tap is a freezer full of Hansen's – easily one of the best ice creams in Denmark.  Our daughter likes it rain or shine, but the best days are the sunny days where you can grab an ice cream bar and sit alongside the moat to people watch (or duck-watch in her case).
3.  The Casemates Tour: This isn't a guided tour but something you can explore on your own.  At the castle, the casemates – the underground tunnel and room system that soldiers would often have to camp out in – are open to explore.  And they are dark – very dark.  Bring a flashlight, fire up the flashlight on your phone, or purchase a flashlight from the vending machine at the entrance, and explore away.  Our daughter was a bit frightened the first time; there might have been a tear or two.  But now, she looks forward to this part perhaps even more than the Lego's and ice cream. If you visit yourself, and end up being scared witless by a four-year old that has leapt out of nowhere, that was probably her.
4.  The INKED exhibit at the Maritime Museum: Hands down the best part of this museum, which is right next door to the castle.  The museum is absolutely worth a visit but if combined with the castle, it does make for a long day in the eyes of little ones.  Delight them by taking them to the "tattoo parlor" where the museum has set up ballpoint pens attached to tattoo arms, and a system of projecting designs on to your arms so that you can tattoo away.  Our daughter loves that this is the one time we basically let her draw all over herself at will.  This is another one that's just as popular with adults too.  And I have to say that the gift shop at the Maritime Museum is one of the best – it's a great place to pre-arrange with your littles that they could pick something out are a reward, as you'll likely want to pick something out for yourself too.  Some of the best Danish and Scandinavian brands are under one roof here, all with a maritime or scandi-chic theme.
5.  Helsingor Public Library: Even though this is right next to the other two attractions of the castle and the Maritime Museum, most people have no idea it's there.  Helsingor's Public Library is awesome and free, and has one of the best indoor playrooms full of multiple sections and toys and wooden boats to pirate.  This is perfect for when the kids get tired and need something of their own to do, or if the weather isn't too agreeable.  Some days we have come in just to take advantage of the library itself.  On the lower level is a culture center and cafe where you can grab a coffee or eat a light lunch as well.
If you'll be visiting Helsingor, check out the following posts on the other blog for ideas and more information:
Denmark Derby: Maritime Museum