Are safari parks still a thing in the US? I remember them being around all the time growing up, until they weren't.  There is however one in Denmark, and it is definitely a thing.  Given how enamored our tot is with all things animal and being on "the creature trail" (thank you, Kratt brothers, for that), we put the Knuthenborg Safari Park on our summer list.  Much to my surprise, it was a total hit – not just with her but with us too.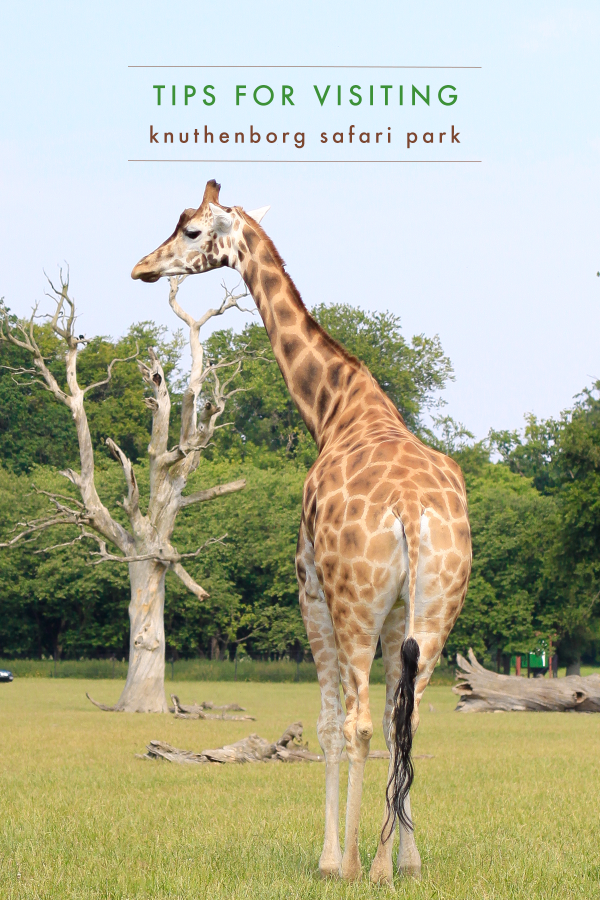 We already posted on the pretty spectacular playground, and photos of the full park will come tomorrow, but since this was the first time we have ever really done an outing like this, I thought the following tips might help others plan this very worthwhile trip:
 Wash your windshields: Perhaps this is obvious.  It certainly became obvious to me once I tried to snap my first photo.  Since most of the photos or videos you'll get are from behind the safety of your windshield, if you have dirty windows, you will have dirty photos.  And that's a major bummer when the tiger walks about six inches from your car.
Speaking of tigers, go see them first: One of the best parts, hands down, about Knuthenborg is their tiger section.  There must be about five or six of these cats in their own enclosure, which is so rare these days given how very, very few of them there are in the wild.  And they are just magical… When you enter the tiger enclosure, you'll feel somewhat reassured with all the double gated safety but man, when that cat literally walks by the edge of your car, your heart will completely drop.  I was equal parts mesmerized and afraid, so the dirty windows didn't even matter that much in that particular section since I could barely pick up my camera.  It's something else.  Because of the security procedures to get in and out of the tiger enclosure, there can be a bit of a pile up there if it's busy, so arrive early and head to the tigers first, then back track to all the savannah animals that everyone else will be distracted by on their way over.  That way, you have those tigers nearly all to yourself.
Pack your Lunch: Normally in most museums in Denmark, there are great cafes .  There is a cheerful cafe here, right outside of the playground and it's cute on the outside however, it is very heavy on the fried food/fast food aspects.  Maybe it was just that it was so hot out the day we went, but a few fresher/lighter food options would have been welcome.  There is plenty of picnic space at the park so save both grease intake and budget by packing your own, and just stick to picking up ice cream or a drink at the actual park.
Bring a swimsuit and towel: Assuming it's a nice day, the splash pad at the playground can really take up some time – and the water ride will give you some legitimate splash too.  Having a suit and something to dry off with will make the whole excursion a lot more pleasant for when you have to drive back into the park and home.
Budget enough time for the playground: The safari park playground can easily take as much time as the safari park itself, don't shortchange it! Your kids will never forgive you – trampolines, ropes courses, pull your own Limpopo River raft…not to mention the usual slides, swings, and the aforementioned splash pad.  This is no in and out in ten minutes operation…
Arrive early: The park opens at 10:00am and we would suggest arriving as close to that hour as possible as there will be few others around at that time but the animals are extremely active.  We arrived pretty close to 10am and there were only a handful of cars but by 11 and 12, it definitely was a little bit more congested.  There is still space enough for everyone, but at the start you can still try to convince yourself that you're on real safari.  Also, in case the prior few points didn't make it clear, there is a LOT to do here – truly.  We covered the park and playground pretty well but we didn't even make it to the petting zoo or a few other corners before having to head back before the park closed. It's going to cost the same no matter what, so you might as well take advantage!
Allow for a treat: Next to the playground is a pretty extensive gift shop that's very well done with toys and games that are specifically themed to animals (and also their conservation) – from a tot's perspective, it's pretty spectacular when your parents drive you around with the wild animals of your dreams roaming around at will, so let them pick something to remember the day by.  Plus, it will keep them entertained on the ride home if a nap won't.
Get in the spirit before you arrive: Again, from a tot's perspective, this is a big deal trip, and we had fun building some anticipation for it.  And between the drive and the cost (209 DKK for adults, 119 DKK for children from three onwards), it's a bit of investment on everyone's part.  We drummed up excitement by allowing a few more Wild Kratts episodes and a Daniel Tiger episode on being a safari explorer.  On the way down, we listed to the Madagascar soundtrack and a Putumayo collection of African Music (African Playground, one of our house favorites) on the way down and Paul Simon's Graceland on the way back.  Part of what made this day trip such a success is that everyone ended up looking forward to it.
The Knuthenborg Safari Park is about 1 hr 45 minutes from Copenhagen by car.  And yes, you'll need a car as the park itself is drive through – there are plenty of parts to get out of the car and even come up close to the animals but this is one of those few times in Denmark that a car is really and truly necessary.  Stay tuned for more pictures tomorrow!