I'm hoping yesterday's post on the Mon Island Chalk Cliffs (Mons Klint) got you inspired to take a little day trip! If Mon itself is on your list, here are a few things that we've learned about visiting during our time in Denmark.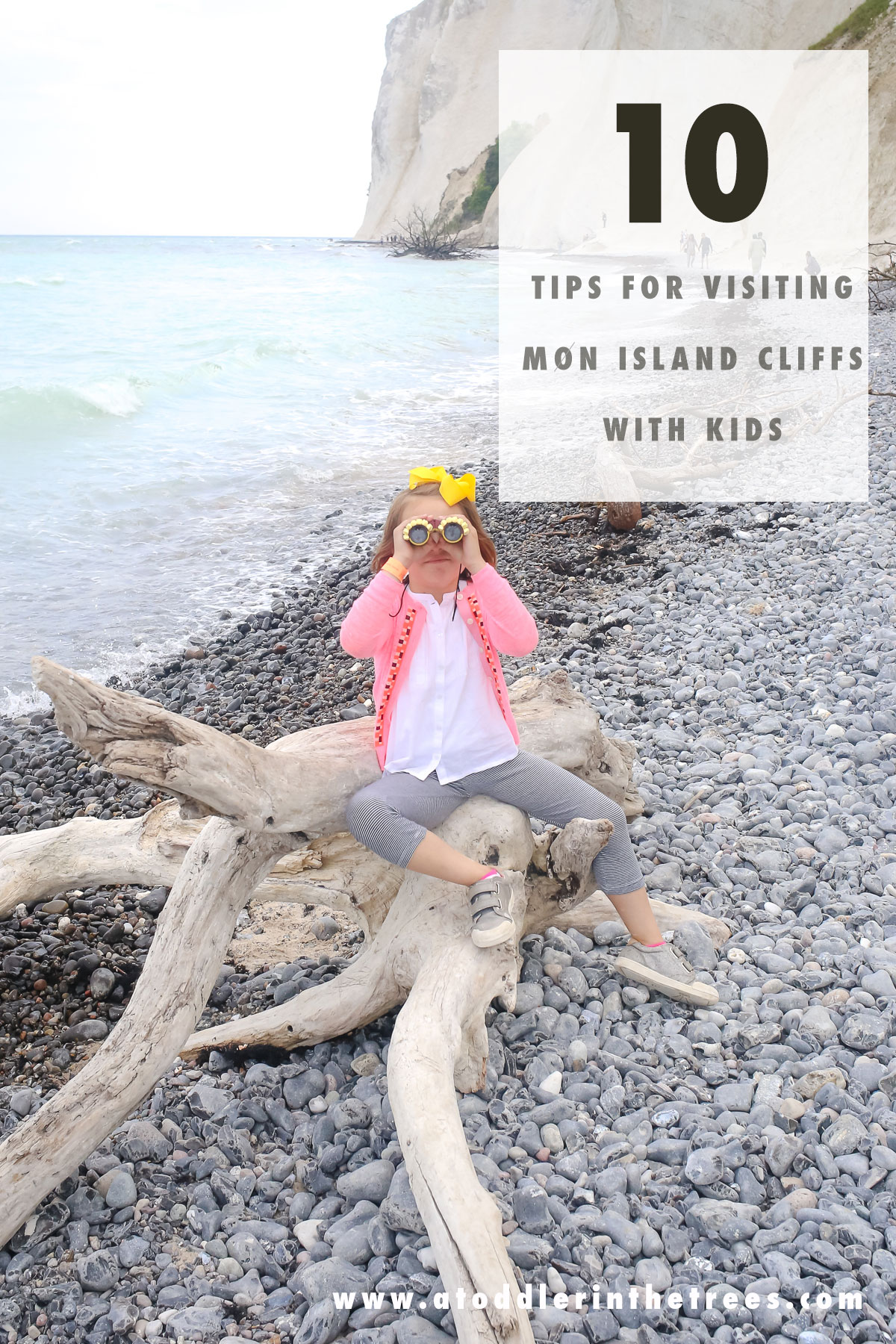 When you arrive at the cliffs area, you'll find parking by the
Geo Center
and then have a couple of ways to play the time that you spend in that area. Here are a few things to keep in mind if you'll be visiting the cliffs at Mon, especially with little ones in tow.
Use the bathroom
Of all the situations to navigate, this is perhaps the most tricky and here's why. It's over 600 stairs down to the beach, through a series of zig zagged staircases, and then of course, you're on an open stretch of beach that is actually quite narrow depending on the tide, and quite visible to other visitors; and then it's another 600 stairs up.  So bathrooms for toddlers and for changing little ones aren't exactly plentiful or accessible.  If you go in the summer on a nice day, crowds prevent some of the more nature-based options, leaving you a bit stuck if there is an unexpected situation. Make every effort to go before you head down or be prepared to get creative.
Ration your energy
Since we've gone a couple of times, we have done variations where we do the nature center first, and then cliffs, and then vice versa, and sometimes, just the cliffs.  I haven't found one way to be better than others. Instead, I have found that what to sequence first depends a bit on the mood and energy of my littles.  When they fell asleep in the car once and needed time to wake up, we did the center first and then enjoyed the cliffs once the heat cooled off a bit.  But we've also done it the other way around – short answer, it depends.  The Nature Center isn't open that late, but just see how things play out.  Just keep in mind that the trek down and trek up can be tiring, and not just for the kids but also for you, especially if you are doing any extensive infant carrying or letting a smaller one hitch a ride on your back.
Visit the Nature Center/GeoCenter
While it's not open year-round, if you are in season definitely make time for the
Mons Klint GeoCenter
and make more time that you think you need.  It's really an enjoyable visit and by the time you add in the activities like the erosion areas, or the little movie, or the panning for fossils, plus say a lunch of snack, it can really take up some time. It's well done and the shop is also great for kids to pick out a little treat (like these dinosaur-themed binoculars!).
Pack the ergo
If you have little ones in tow, this wouldn't really be a stroller friendly thing, with the stairs and all.  That being said, little legs might not do all the stairs up and stairs down, so this is a good trip for the ergo.  We always kept ours in the back of the car by default, but I was always glad I wore it down to the cliffs as one of the two littles inevitably needed to hitch a ride back up.
Pack a lunch
There are some lovely picnic areas in the woods before you head down to the cliffs.  There is also a little cafe in the Geo Center/Nature Center but unlike most museum cafes, this one didn't impress quite as much (though it's fine for a snack and water – if you arrive on busy summer days, they might run out of lunch dishes as well).  This is a good time to make like a Dane and bring your own madpakke suited to your own tastes.  An ice cream at the cafe once you return up though is a welcome treat.
Bring water
Similar to above, if you visit during summer days, don't forget a little extra water.  Those stairs, especially if you are carrying kids, can really do a number on you.  Plus, you'll need any extra water to rinse off any chalk before getting it all over your car.
Be prepared for chalk!
Speaking of which, as you might suspect, chalk cliffs are full of chalk.  The white, dusty, cling to you kind.  It's actually pretty cool – but it will get on your shoes, clothes, etc so don't wear anything too precious or too dark-colored down there.  Similarly, it's natural chalk but behaves just like any other chalk so if you bring down a little bit of dark construction paper in your backpack, the kids can color a bit (although mine were happy just to draw on the huge rocks down there).
Have a few ziplock bags
If you've read here before, you know that I treat
ziplock bags
as a solution to nearly all my travel woes.  But in this case, the bags make it easy to collect a few pieces of rock chalk to take back, or store any potentially found fossils (which you are allowed to scavenge for still down at the bottom of the cliffs).
Pack a windbreaker
You'll be surprised at how windy it can get down at the bottom of the cliffs, especially if you are not visiting during summer time.  Layers are key as the weather and temperature can change quickly, and if it is in any way off-season, a wind breaker or wind blocking coat (and a hat) will feel like lifesavers.
Be friendly on the trail
There are lots of feet headed up and down on those stairs.  People pass each other by, stop for breaks, take a seat…We found that if we were friendly, we met all sorts of people, Danish and otherwise, who were traveling through to see the cliffs.  Lots of children as well so don't be shy about a bit of occasional small talk.  It's a welcome diversion from all the stairs and makes the climb go by quicker.
Drive around the island
Unless people are staying on Mon Island, many will come to see the cliffs and leave immediately afterwards.  But the island itself is really quite calm and beautiful.  As mentioned yesterday, with any luck, your kids will be exhausted after the walks and explorations, so I found that while they wound down or dozed off, I really enjoyed a little drive on the island.  Mon is full of traditional houses and open fields – parts of it reminded me of the wide open spaces of North Dakota and I guess to some extent, it felt a bit like home.   Don't forget to take some of that in.