Happy Monday everyone! A couple of weeks ago, we put in place a few updates to the blog that hopefully make things a little easier for you as a reader.  As always, many thanks to Carolina from Light Morango – it's her awesome template that makes this blog run and she was kind enough to help me out with a few technical things behind the scenes.  In addition to her help, I finally got a few other things up and running as well that had been on our to-do list.  As a quick intro, here's what's changed:
1.  New Header
A bit of fresh foliage for spring, what do you think? We had the watercolor pinecones before, but with so much sunshine these days, we thought we'd freshen things up.

2. Category Grids
This is probably the nerd in me, but check out the categories on the right and see now nice the pages look when you click on them.  No more incessant scrolling through category posts (though you'll still scroll if you click on a tag or use search)  – so if you're interested in a particular main section, say our thoughts about forest school based on experiences or looking for things to do out and about in Copenhagen or Denmark, you'll see all of the posts with a thumbnail in grid format.  Pretty cool, am I right?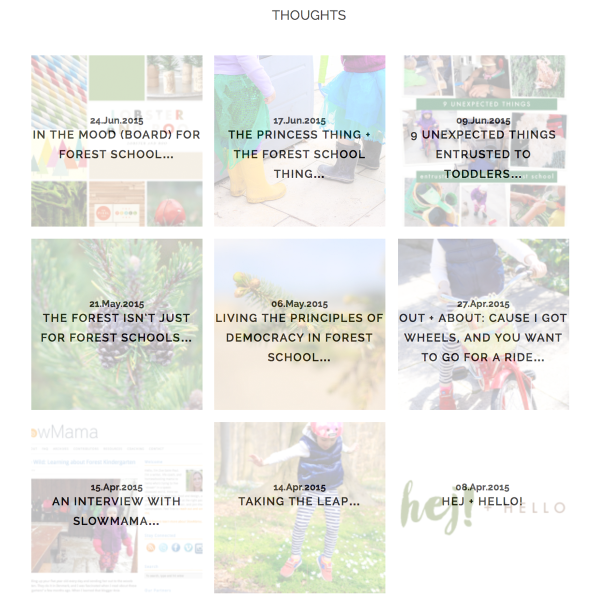 3.  Pinterest
We're on it – finally! The favicon has always been up but we finally got our Pinterest page squared away.  You'll see some of the key images from here of course, but also inspiration from other forest schools, getting outside, the great woods of the world and other interests for toddlers and little ones.  The Pin It function was updated to work a little more smoothly (it even pins over the description so you don't have to type it!)  so pin, pin, pin away! And of course, follow along on Pinterest for more pinspiration (yes, pun intended.)
Visit A Toddler in the Trees's profile on Pinterest.
4. Instagram in the Footer
The blog is the main home for our thoughts and experiences with the Danish forest school, but the Instagram account is where we post little daily updates of what's been going on and what the kids are up to.  We'd love it if you follow along on that account as well, but for those that just want a quick recap, the images feed into the bottom of the blog as well.

5.  An updated Facebook Page
Since we updated the blog header, it only made sense to refresh the Facebook page as well.  We also share little updates here, as well as articles and useful info from other like-minded sources about forest school, education, and fun stuff for kids.  It's also where we chit-chat and answer any immediate questions – hop over and check it out!

And a big thank you to you, the readers, for making this little blog grow so quickly.  We appreciate the time you take to check in with us.  If you'd every like to see anything specific or more of anything here in this space, don't be shy and use one of the above to let us know! Thanks for reading and great to have you join us!