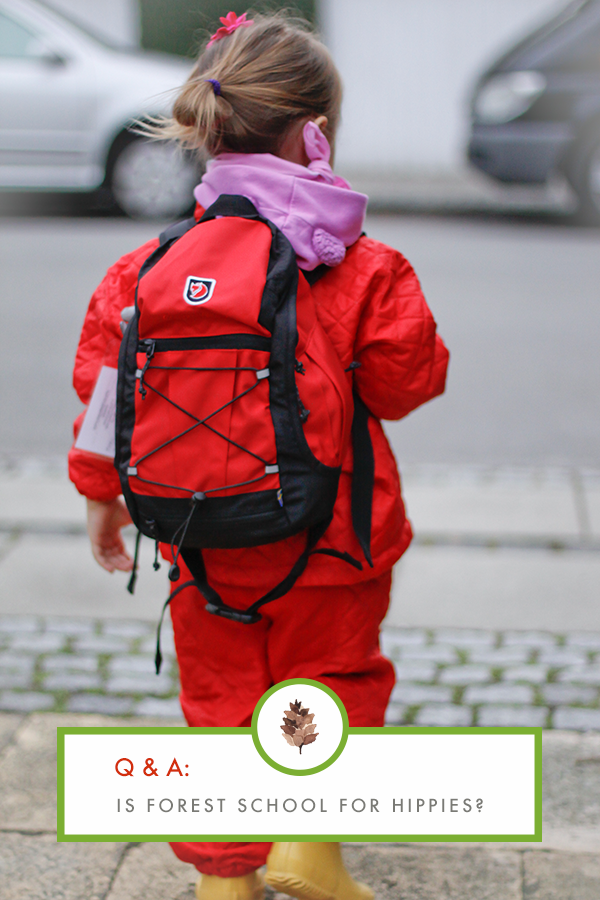 That's a fair question…  I certainly assumed it might be.  In fact, other than to chuckle at the description, I didn't think much of a forest school as an option when the embassy sent us the three pages of information on the schooling options in Copenhagen, with a short paragraph on each, along with some incorrect tuition amounts and wrong phone numbers.  Helpful, but not that helpful.
I didn't know much about forest schools other than, if the name was any indication, it was a school that took place in the forest.  Turns out my graduate school degree was good for something, and that reasoning was generally correct.  The description said that it was schooling that primarily took place outside, it took place rain or shine and was entirely "very Danish".  "Very Danish I don't know, but very hippie if you ask me", I thought initially.  Then in the area for the description of building facilities, they had marked "none".
I'm kind of a conventional gal.  I like white button downs.. and pearl necklaces… and a glass of champagne to celebrate just about anything (including having nothing to celebrate).  I'm not a camper, I don't know how to put together a tent, and frankly, and I don't really like granola bars.  I say that because I know it's a stereotype – that people are "outdoorsy" or "crunchy" or they aren't… I almost didn't consider this school at all mostly because I thought they wouldn't consider us.   I didn't seem like the target parent for this kind of eduction and yet I couldn't help looking it up.  Sometimes we're drawn to what we least expect.
If you would have asked me before I was a parent what I thought kids needed (actually, I probably would have told you even if you hadn't asked me because, don't we all make the best parents before we actually becoming one ourselves? ), I would have said something along the lines of less TV and more skills for the future.  But I also would have said that they need more confidence, and more independence, and less thinking that someone or something should always have answers for them.  And also more fresh air, more movement and generally speaking, more just being a kid.
Turns out, that's not that far off from forest school.  Why should time spent outside be considered very Danish? It's a strong thread in the education system here for sure, but shouldn't we all want that for our kids? For young children, I think that time spent in all the elements, exploring, learning and being shown that they have a lot of capability in this world, instead of always focusing what they can't do, should be a very natural thing, not just a Danish thing.  Why are Danish kids getting all the fun?  The more I thought about it, the more I knew that my daughter wouldn't find those kinds of lessons anywhere else, and that I would have regretted not taking the opportunity to at least try a different way of thinking about her initial education.
I don't know if that makes me a hippie in the end or not.  What I'd like to think is that it makes me is a parent dedicated to giving my daughter a chance to learn what she is capable of.  There is a lifetime to be had of sitting behind a desk in a traditional environment…I know because I sit behind one myself now.  But there are only a few short years where we can teach children the foundation of independence in this wide world, and I didn't want to waste that opportunity.  I wanted for us to be part of it – champagne and granola bars and all.