Lately, I've been getting quite a few questions again on email about how to apply for a Danish forest school – it must be that spring is in the air! While a big chunk of the forest schoolers in our school are starting to think about the next step after life in the woods, I suppose it's only natural that a new crop of littles starts looking into how to take their place!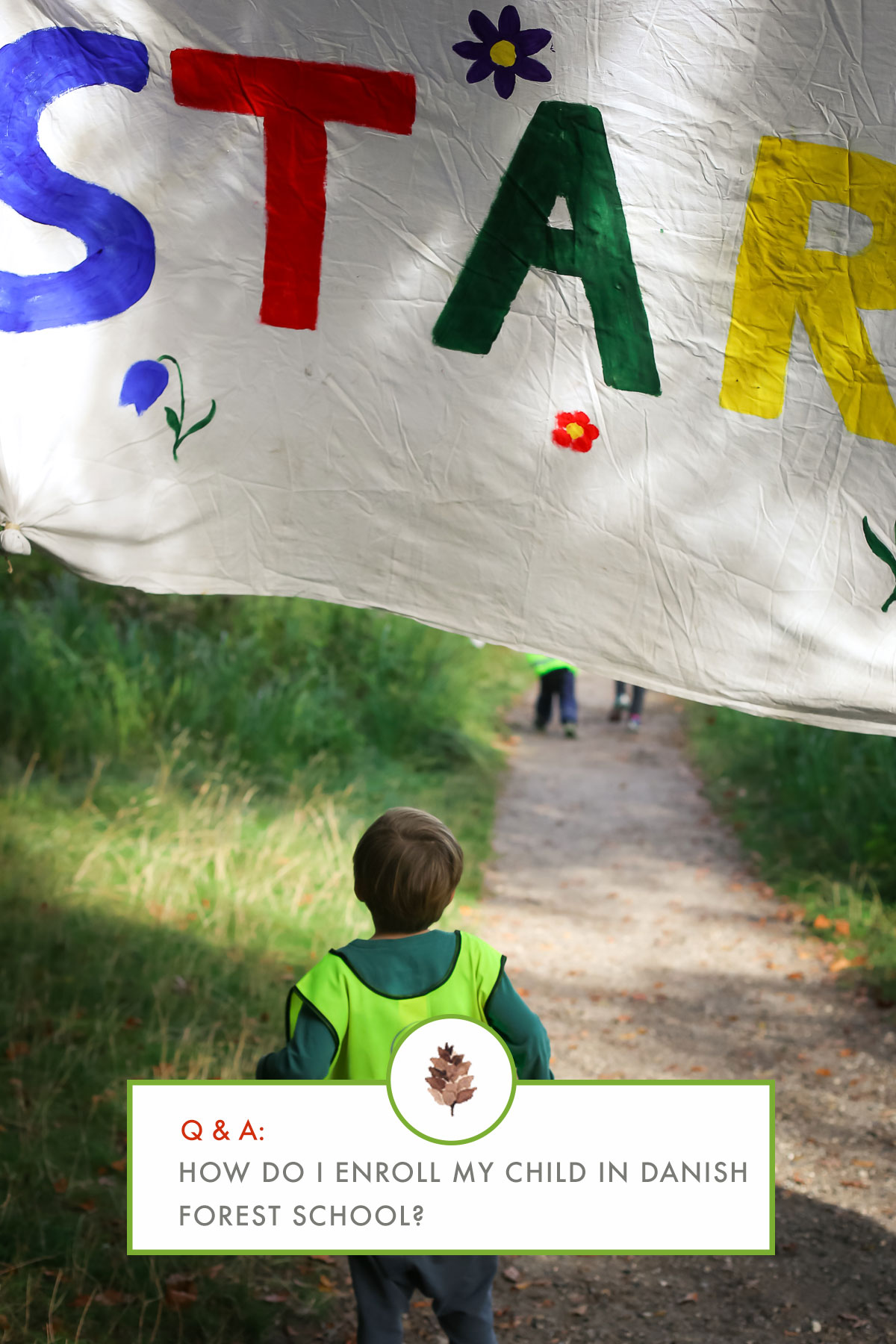 I touched on the system a bit in the post called "How did you choose your forest school?" and I recommend starting there as a baseline since it helps explain the school system in general.  I say in general because I'm not a great guide to the specifics on this one.  The truth is, because we're here as diplomats, we sometimes don't get to follow some of the more regular protocol.  For example, and this is changing in the diplomatic community, we didn't receive "real" CPR numbers  when we arrived – the Danish personal identification numbers that everything is based on.  We received dummy numbers to use so that prevented us from using a lot of the online registration tools at the time (which probably would have made things easier) – I hear they no longer do that but for incoming diplomats, if you find that a limitation, it just means a little more in person time to work your way through the system (hang in there!).
But that aside, I wanted to add a few resources that could be helpful in the whole enrollment process since many have asked how to go about finding a forest school in the city.
Introduction to applying for Danish Preschool
My Danish Baby's Guide to Danish Daycare: This lovely blogger, an expat journalist from Colombia, has done an awesome job of writing up the various types of institutions that you can apply for outside of forest school, how to think about which school is right for you (her shortcut list of questions to ask yourself/the school is a huge timesaver), as well as a primer on how to apply for the school subsidies if you qualify for them.  She is based in Aarhus, Denmark but her write-up is mostly true for the Copenhagen area as well.
Applying in the City of Copenhagen:
If you decide that a forest school is right for you, it's time to start finding them.  Here's the thing, how easy it is to find or not find them depends a bit on your "kommune", so I've broken out the most common ones I come across or have gotten asked about this year.  First up, the city!
The thing to know about the city of Copenhagen is that they are going through some major restructuring in the education system, called "Room for More".  As we don't live in the city, I can't really speak to whether this is a good thing or not, but at least from dinner party conversations I've picked up that one of the main principles of this will be to pool smaller schools into larger ones in order to combine resources across groups.  So the average school size, no matter what age is serves, will be larger, and there will likely be some growing pains while the city builds up the institutional space it needs.
This also means, sadly, that some of the smaller schools and preschools and "vogguestues" have closed or will be closing.  For some kids, they will be reassigned into other schools still open, but that means that there is definitely some confusion in the system right now.  It also means that there are a lot less forest school slots to go around, when there is already high demand for them.
That being said, in Copenhagen, you have regular preschools (that still get a fair amount of time outside), forest schools, and then "hybrid" schools that might be one week in the woods and one week off, or a couple of days in the woods and a couple of days at school or various combinations of that nature.  Be sure to ask how the school works to ensure you get the right fit for you – as with anything, there are always pros and cons.  Usually the concept of forest school is a little out of the comfort zone for most people, but if you are based in the city and wanting to try a forest school approach, there are several flavors to choose from.
The two main "kommunes" are of course the city of Copenhagen and Fredericksberg:
Kobenhavn Kommune: This is probably the most comprehensive of all the kommune sites, with the most information in English for obvious reasons.  That being said, it's not always easy to navigate to what the forest schools are.  Here are a few good places to get started

Basic info on how to apply in Kobenhavn Kommune
English guide to preschools and preschool programs – a good primer on how pre schooling works in general here in Denmark (last updated in January 2016) so worth reading wherever you live.  Beware though, some of the links, like the link to the school list etc have typos in them and do not work, so best to navigate from the full site.
Forest type preschools operate under three different kinds of names in Copenhagen: udflytterbørnehave, skovbus and rumlepotte (differences between the three are explained on page 20-21 of the english guide – the different names have to do with the frequency and cadence that the children go out to the woods)
Finding the forest schools: go to the school finder page, and enter one of the three bolded words above in the "institution" bracket or alternatively, enter your address and in the list of schools returned, look for those words in the title or description – when in doubt, double-check with the kommune itself and stress that this is the option you are most interested in.

Fredericksberg Kommune: First of all, if you live in Fredericksberg, you lucky duck! Such a fun neighborhood! But besides that, it will have some of the issues that Copenhagen has with the closings and such.  That being said:

Full list of kindergartens here: you can't sort by forest school but look for "skovbornehave" in the first line under the title of the school
Be sure to click on the individual schools as it will take you to more info about them and many have websites of their own
I don't know any of the schools personally, but have it on good authority from others that this has been a great one for several families (Bornehuset Ved Soerne)
Applying in the Northern Suburb Kommunes
Gentofte Kommune: Gentofte Kommune is actually pretty good about providing at least some information in English, although once you get into the details, it tends to revert back to Danish (but google translate is often helpful).  Key pages include:

Find a school – to find a forest school, separate out the "skovbornehave" as an option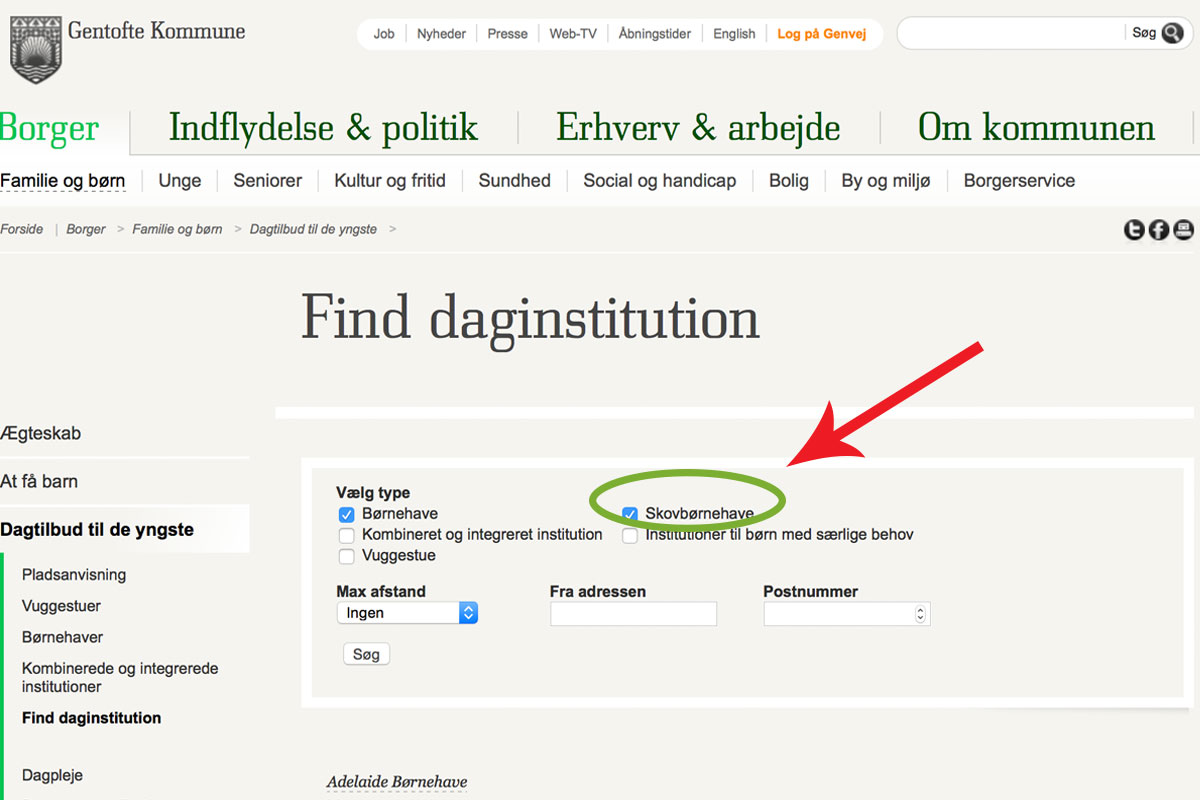 Rudersdal Kommune: This is probably the second most common suburban area and covers towns like Holte and Birkerod, and has some basic info in English.  You can find a list of the institutions (if I am doing this correctly), and again, look for the "skovbornehave" on the list – many of them have websites that are linked directly here so that you can get a feel for them in advance.
Lyngby Taarbaek Kommune: This covers areas like Lyngby and Virum.  Again, their website follows their own structure, but the following are helpful:
I hope that's helpful as people  navigate the system.  If you do have experience with various schools and have thoughts on whether it was a good one (or not) feel free to leave your thoughts in the comments below, I'm sure it would be helpful for other parents out there!