The forest school is predominantly held – wait for it – in the forest, but it doesn't mean that these kiddos don't get out and about in the city from time to time.  Periodically, if there is an event of note, or if the weather is particularly dreary, the classes visit museums or other points of interest.  And a couple of weeks ago, we were delighted to host this group of curious ones at the American Embassy here in town.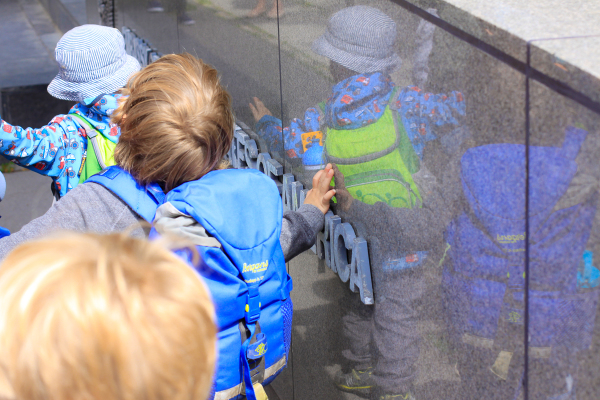 The Embassy often hosts schools groups to visit and learn about their work and the United States but this was the first time that the doors opened for these tiny tots.  After all, visa processing and bilateral trade agreements aren't necessarily top of mind for them.  So we structured the visit around the little stuff – after all, isn't that stuff the coolest anyway?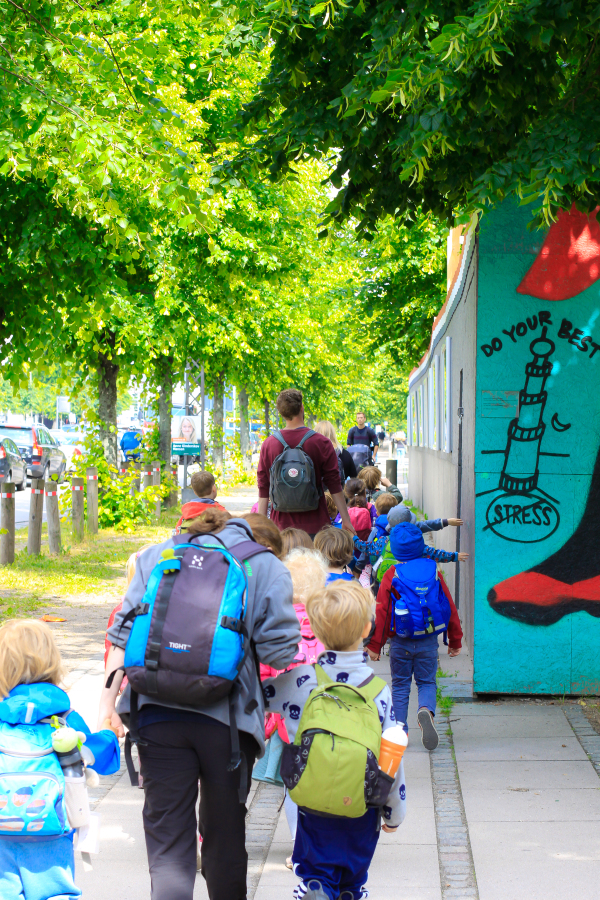 Here they are learning about the American flag, what the stars and stripes stand for, and how the colors compare to the Danish flag…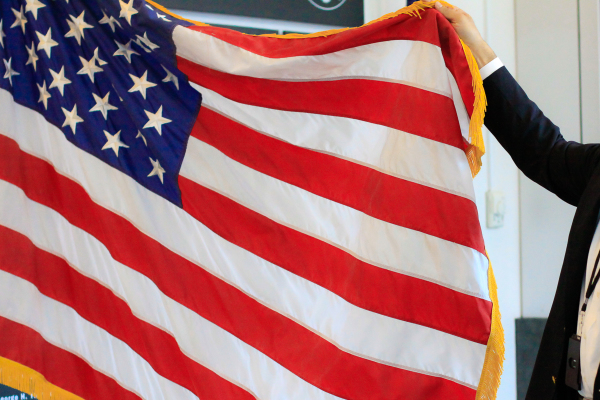 And here they are waving to the Marines who keep the embassy safe and learning all about reinforced glass…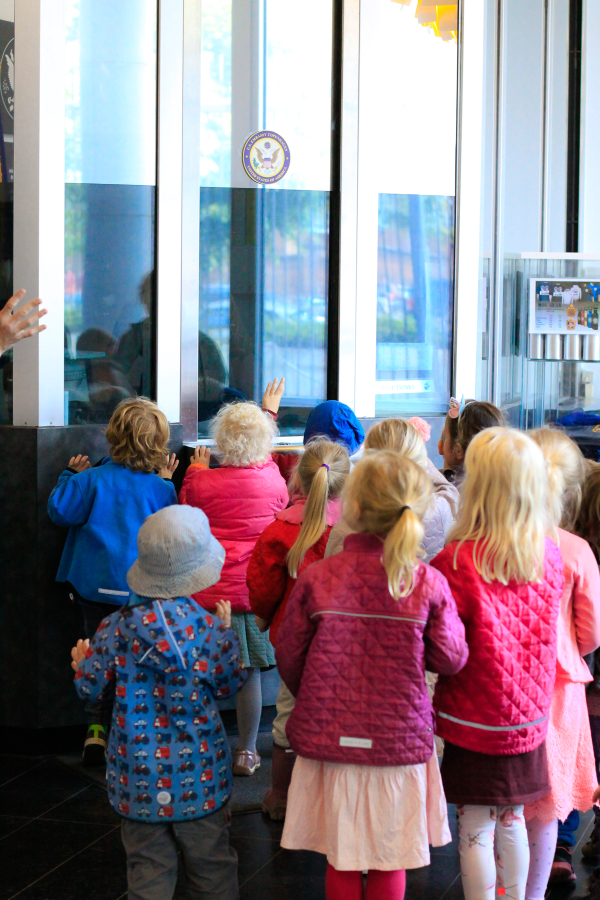 The model of the USS Constitution was a major hit as well…here they are sitting calmly and listening, but about 20 toddlers swarmed that glass case just minutes before giving anyone adult in the area a brief moment to wonder if this was a good idea…But as always, the forest school kids surprised me with their own ability to self-regulate.  "Step back, " one of them said to the others, "we have to be careful here."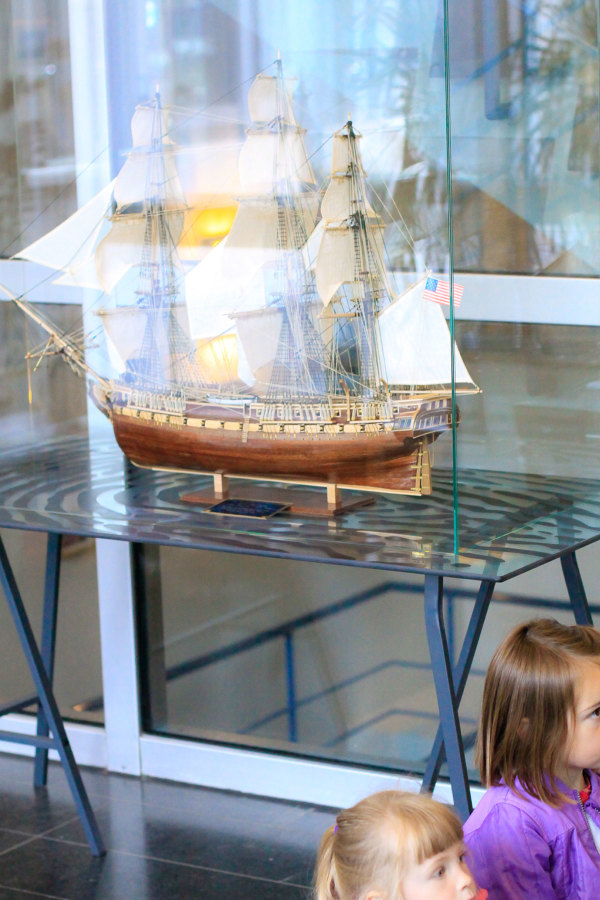 And who can resist snack time? In keeping with Danish school traditions, fresh fruit was front and center, but let's be honest, the chocolate chip cookies, a special "hygge" American treat was the real treat (at least, that's what the teachers told me, and they haven't stopped talking about them since)…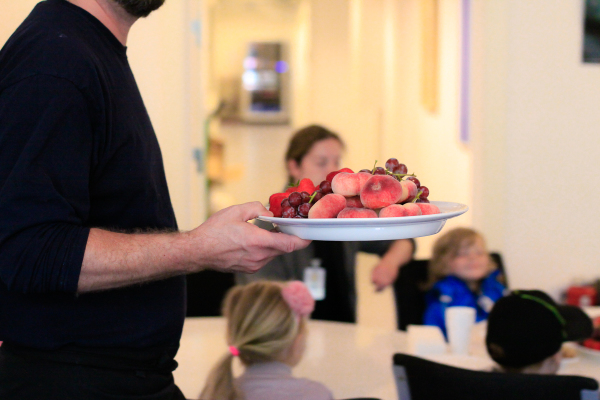 Flags to color and stickers were take-home treats…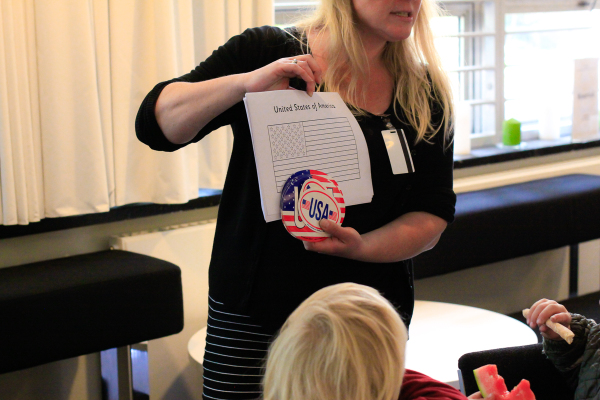 I don't know how much of this visit will stick with four-year olds, and frankly, I'm sure the huge adventure park across the street is probably the thing that was most entertaining thing for them that day.  But Denmark has been so good to us in terms of opening up its doors in so many ways, it was a nice feeling to open ours in return.  One thing the children learned was that Denmark and the US are good friends – I hope they remember one day that we absolutely meant that.